Around the same time I started embroidering on my photography prints, I stumbled on a beautiful Instagram account. I was looking to find and connect with a community people who were doing something similar. Not only was Catalina Escallon embroidering on photography, she was talking about her techniques, sharing resources and actively seeking out collaboration opportunities.
Turns out we have quite a lot in common (I'm from New York and she lives in New York; she's from Colombia and I've lived in Colombia; we're both expats; we're both interested in the impact of place on identity; we both have our own businesses and Etsy shops; we both work in marketing; and so on…) so we started chatting and a few months later, we have two beautiful art prints to share with you.
"NOTTING HERE" AND "NOTTING THERE"
I sent Catalina two prints from London's Notting Hill: one of a house in the colourful back streets with a Figaro car parked out front and the other of the Electric Cinema on Portobello Road. She embroidered on black and white versions of these beautifully to add a layer of storytelling in her stitches.
Both of these are now available in my Etsy shop as unframed open edition prints with white borders in either 5″x7″ (£36) or 9″x12″ (£48). Free shipping worldwide.
They're printed on 308gsm Hanhemüle paper by The Print Space in London which shows off the detail and texture brilliantly as you can see in the images below.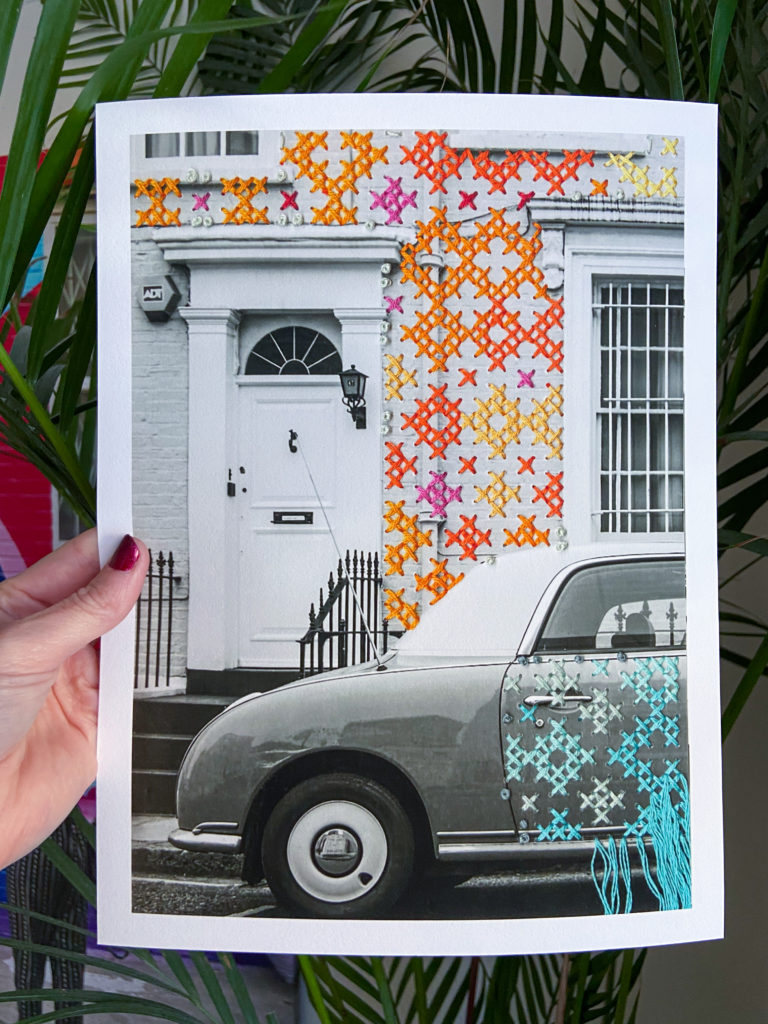 IN CONVERSATION WITH: CATALINA ESCALLON
As her official bio goes, Catalina is a Colombian artist based in Brooklyn, New York. With her art, she explores the intersection between graphic and textile design. Her pieces are an invitation to touch and an exploration of various textile techniques. Catalina brings dimensionality to print and uses embroidery to tell stories and create memories. She sells her pieces on her Etsy shop Catalina Escallon R. and her own website. She likes to share her process, embroidery tips and recommendations and she's always looking to collaborate with other creatives.
I asked her a few extra questions so I could share with you a bit more about her and her creative process:
LO: Share a bit of your background with us: When and why did you start embroidering on photographs?
CE: I learned to sew at a young age and have been obsessed with anything textile ever since. I'm a graphic designer, but have worked in textile design for the past five years. During the lockdown I had tons of time to kill and decided to try embroidering with photos I had on my iPhone. I bought some embroidery books, supplies, and started to experiment with this medium. This increasingly became a conversation starter with my friends and family as well a way to keep myself entertained through those months of anxiety and uncertainty.
LO: Where do you usually source the images you embroider on?
CE: The images are sourced from my own library, from places I have traveled to but mostly from places I love (most of them were from back home).
LO: Can you tell us about the importance of "place" in your work?
CE: Six years ago, I decided to live abroad and with that choice came uncertainty and struggle. Since then, I have battled with a sense of belonging. A part of me is still back in Colombia, my home country, with the memories of my childhood, my family, and friends. Another part of me lives a new life here, in Brooklyn.
While living in Brooklyn, I started to find new meaning in places I have been and started to see these experiences in a different way. These experiences triggered my nostalgia and made me think about these places and how my identity is constantly being shaped by them. I've embarked on a journey to figure out my identity, and it has led me to realise that it is not one specific place, but the construct of many.
My body of work is a creation of my own spaces and how they make me feel. The images chosen represent something to me or my loved ones. Each one has a memory attached to it. In a sense, I am trying to put together a collection of collective memories that I weave together with thread.
LO: What do you love most about collaborating with other creatives?
CE: Collaborating is a great way to open and create conversations with other creatives. Whether we work on the same technique or different ones, I think there is always something to learn from each other. We all develop our own voice and collaborating with others inspires and influences our voice.
LO: How has your exploration and knowledge of embroidery on photography evolved over the past year?
CE: After so many hours of embroidery over the past year, I understand the real meaning of "practice makes perfect". It is all about repetition and practice. From a technical standpoint, I have improved significantly, working more comfortably and efficiently. I have started to experiment with materials, techniques, and I've seen the evolution of my work: I started more textural and now I'm more focused on pattern and composition.
LO: Who are some of your other favourite paper embroidery or fibre art artists and where can we find and follow them?
CE:
Karen Barbé (@karenbarbe)
Josefina Allendes (@josefinaallendes)
Alice Kozlow (@alice.kozlow)
Sol Kesseler (@bugambilo)
Bisa Butler (@bisabutler)
Danielle Clough (@fiance_knowles)
LO: What do you do when you're not working with threads?
CE: I'm an entrepreneur and in my free time (besides embroidery) I like to collage, collect textiles from far away lands, and take care of my beautiful dog, Dante.
SHOP ON ETSY
If you enjoy our work and would like to support our creative collaboration, we'd love to see our prints find homes across the globe.
Find "Notting Here", "Notting There", a selection of my own embroidery work on my photographs and unstitched photography prints in my Etsy shop.