I forget about it most of the time, wrapped up in moments, but I love to play with Instagram whenever I think of it. Usually it involves food, a bit of fashion and all things completely random. Here's a little recap from the month of June.
FOOD
1. Mangos. These are not just any mangos but as close as I can find in London to the best mangos I've ever had. The best mangos I've ever had were tiny little fruits that fell from the trees of the Colombian village where I was living in 2011. They were incredibly sweet and had juice that dripped down your chin and arms. These three here are from Harrods food hall. They're not quite as amazing but still delicious (though incredibly expensive…)!
2. Buttermilk Pancakes. A real American staple. One of my colleagues and I decided to try out the new branch of The Diner on Gloucester Road for lunch. In search of something healthy, we caved instead to pancakes smothered in maple syrup (me) and mac & cheese (Dimple). Pancakes remind me of childhood. When my brother and I were little, our grandmother used to make them into special shapes for us – cats, Mickey Mouse, etc. Jorge says they are not a proper lunch, but I disagree. Pancakes can be eaten anytime. Even better if they are bursting with blueberries or chocolate chips!
3. Margarita. Looking to try somewhere new but nearby, Jorge and I went to Mozzarella and More on the recommendation of a blogger, but it wasn't quite what we had in mind. It was great in the beginning when I took this picture. We were the only ones there, but then it filled up with a hundred loud guests, many of whom had children, and it became a lot less relaxing. The food was tasty though and the dessert of chocolate melt-in-the-middle pudding with a bit of vanilla ice cream was one to remember.
4. Roast Duck with Cherry Port Sauce. Not the greatest photo as the light was quite dim, but this was dinner in celebration of my grandma's 80th birthday earlier this month. I was in the States for a work trip and was able to swing up to my hometown of North Tonawanda, New York for a a few days to relax and celebrate. We decided to try out a new restaurant which I will write about a bit later called Webster's Bar and Restaurant. This duck was pretty fabulous. Plus a "fancy" restaurant with tablecloths and multiple forks in the one-street "downtown" area of NT is pretty rare so it was a treat.
5. Fro-Yo and Fruit. In the mood for sushi but too end-of-the-month broke to splurge on our favourite Sushinho, Jorge and I enjoyed a dinner outdoors at Mori on London's King's Road. It culminated in these glorious "healthy" fro yo sundaes. I heaped mine with raspberries, strawberries and chocolate sauce while Jorge went for a chocolate option with brownie bits, m&ms and more chocolate sauce swirled around the top. 

6. The Makings of Crepes. Apparently I tend to mostly instagram the unhealthy things I eat, like crepes! This was taken on Bell Lane in Twickenham where I went with my good friend Danny to explore Eel Pie Island – one of London's most eccentric locations – just across the river. In celebration of open studio weekend in this small artist community (which happens only twice a year) there were street vendors set up selling burgers, pizza, sweets and crepes.
7. Crepe. Though I was tempted by the chocolate chips, I went for the more savoury ham and cheese option. It was pretty tasty but in no way compared to my favourite Le Creperie de Hampstead which has the best crepes I've ever tasted. Just before this, Danny and I took a wander through nearby York House Gardens to lay our eyes on the famous naked ladies.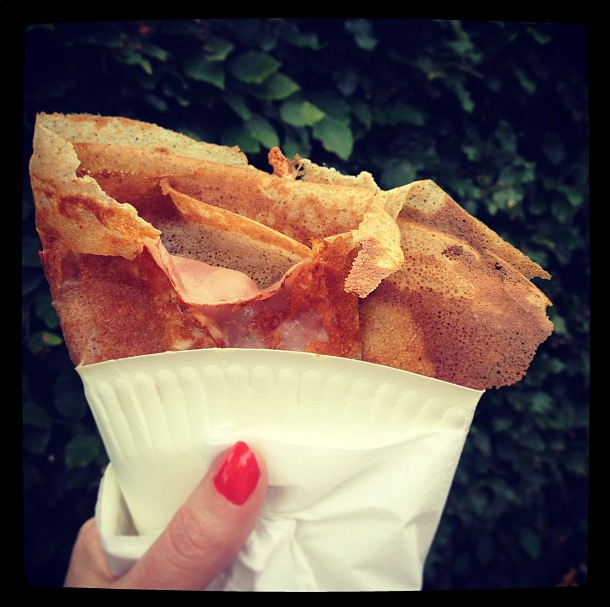 FASHION
8. Daniel Wellington Watch. I've had my eye on this Daniel Wellington watch for a while now. It's currently out of stock but they'll probably get more in soon. I haven't worn a watch since I was about eight years old so it's funny to wear one now. It feels like grown up thing to do. That said, I never look at it for the time. I still instinctively reach for my phone. It's more for decoration.
9. Marc by Marc Jacobs Bag. Harrods was having a bag sale and I got sucked in to the flow. This bright pink Classic Q Natasha bag was calling my name. It's super bright so it should be used sparingly, but it's a happy Summer colour and brightens my mood when I carry it!
10. Bimba & Lola Clutch. This was a present from Jorge which he brought back for me from Tenerife. I recently broke my favourite green bag which I thought was why he bought this Bimba & Lola clutch for me, but apparently that was just a coincidence. I love this green colour and it's great to carry out to dinner to fit the essentials.
RANDOM
11. York House Gardens, Twickenham. Danny and I went wandering through York House Gardens one weekend in June, which I mentioned above. Besides the naked ladies, they also have lovely walking trails, plenty of greenery, a few bridges, some friendly squirrels and nice plants. While I love the hustle and bustle of London most of the time, it is great to have so many places to escape and take in a bit of nature nearby.
12. A Card from NYC. There's something to be said about getting a piece of handwritten mail from someone who could just as easily have contacted you via Facebook. But I tend to surround myself with creative writer types and this is the sort of thing a creative writer type does. I regularly send snail mail to my grandma but it's a lovely surprise from a wonderful friend when it arrives completely unexpected and makes your day.
13. A Haircut at Hari's. While I usually go to Neighbourhood in Earl's Court, Hari's on King's Road is a really quick walk so I decide to test it out. It's quite quirky, with crazy decor around each mirror and a bar at the back. It's also quite expensive, unlike the more reasonable Neighbourhood, but I had great experiences at both places, especially with the people – both called Jay!
14. London's Summer Rain. One day, I went for a walk. I left my umbrella at home. I learned my lesson. This was one of a few downpours this same day and I know quite a few others who were left looking like drowned rats just like me! A nice red London whizzing through past the popular Sydney Arms in SW3.
15. A Seagull on Guard. While I was home earlier this month, my brother took me out to Mississippi Mudds, a little burger joint by the Niagara River in Tonawanda for lunch. We sat outside on the upper deck looking over the river while this gull and a flock of others kept a keen eye on our fries. This is my favourite instagram shot of the month with the red, white and blue flags on the side.
16. Petals on the Porch. A few loose petals from one of my mom's plants floated down onto the green-painted porch steps in the wind. It was a stormy day and we sat out under the cover of the room with the open porch listening to the thunder and watching the rain pound against the street.
17. Kids in America. It's funny when you grow up somewhere, leave for some 6 or 7 years to live abroad and look at the same place again when you return to visit. Things stand out. Kids carrying their toy guns, for example, so nonchalantly. This was taken on North Tonawanda's Oliver Street.
18. A Summer Picnic. It is a beautiful Summer day today. London is sunbathing under bright blue skies, streaked with plane trails and a slow and welcome breeze. Jorge and I enjoyed an elegant picnic that he prepared, packed into a bamboo basket – a selection of cheeses, chorizo, olives, grapes, crackers, pate, a fresh baguette, Spanish omelette, prawns and, of course, wine.
19. St. Luke's Gardens, Chelsea, London. One of my favourite little London hideaways, we had our picnic in St. Luke's gardens. Though there are locals popping out to enjoy a bit of sun, it is away from the crowds and there are beautiful flowers everywhere. Where better to spend a Sunday afternoon?
The end till July!
Follow me on Instagram for more.