A note before I begin: This will be my last post until February because the next six weeks is going to be a whirlwind and while I'll have plenty of opportunities to take photos, I won't have a computer to edit them or time to write posts. My parents are in London now and as you're reading this, we're probably already in Devon where we'll be spending Christmas with family and then spending a few days exploring Dartmoor like we did on family trips to the UK many years ago. We come back on my birthday, stay in London for a day and then it's off to Tenerife until mid-January to catch up with Jorge's friends and family for New Year's and Kings Day. Then back in London for five hectic days. Then off to Boston for a week of work and then from there up to New York to see my family and friends for 10 days. So I'm back in February and the blog posts will be too!
– – –
But I thought I'd leave you with one last post. I had surgery at the beginning of the month and although I'm just about back to normal now, I have been recovering, pretty exhausted and not allowed to carry heavy things (ie – my camera), so this post is close to home: a look into the story of our Christmas tree!
Growing up, my mom would give everyone an ornament (that she put a lot of thought into to match them to our personalities and interests) each year at Christmas and so I have many more that are still in New York, waiting to cross the pond on a trip when I have room in my suitcase, but Jorge and I have gathered a nice little collection together here too.
Every time we travel, we select an ornament (or something that can hang on a tree) as a souvenir. We're missing a few places that we've been together: Barcelona, Paris, Edinburgh, Tenerife, La Gomera, Buffalo and North Tonawanda – but we did bring them back from Copenhagen, Dublin, New York City, Boston, Kenya, St. Lucia, Sweden. It makes decorating the tree a lot of fun because we can reminisce as we unpack them.
Here's a few of the ones we have hanging right now:
This is the newest one. Jorge bought it for me a few days ago because I love foxes and snow.
This is one of the ones from my mom.
These next few are part of a set of 12 tiny ornaments that my parents gave us when we got married. They're part of an old german tradition for newlyweds, each one with a meaning:
A Rose – Beauty and Affection
An Angel – God's Guidance in the Home
A Rabbit – Hope and Faith
A Teapot – Hospitality
A Pine Cone – Motherhood and Fruitfulness
A Santa – Unselfishness and Goodwill
A House – Shelter and Protection
A Fruit Basket – Generosity
A Bird – Happiness and Joy
A Flower Basket – Good Wishes
A Heart – True Love
A Fish – Christ's Blessing
Another one of the newer ones is this little gem that was made for us in the Maasai village that we visited while we were on safari in Kenya this summer. It's made from plastic rings and beads.
The next two are from trips to the Big Apple: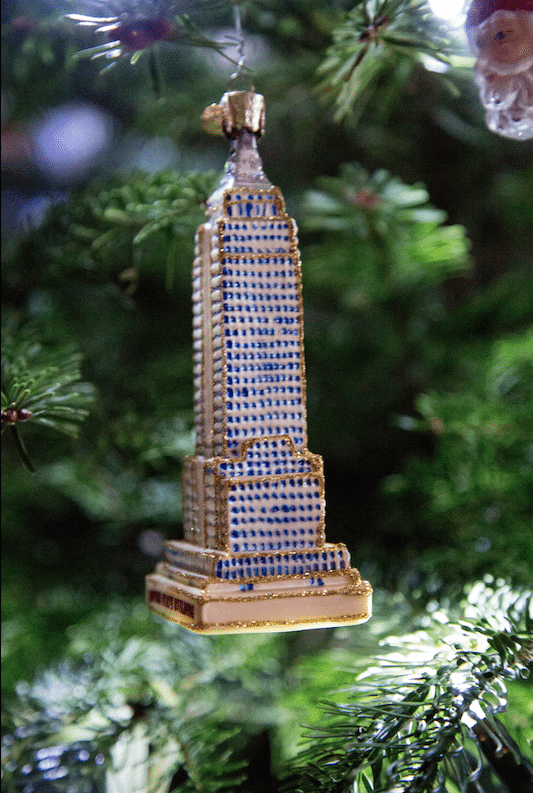 Of course, a London one:
This is another one from my mom.
This porcelain one we picked out in Copenhagen.
Another few from my mom:
And a traditional one:
One from Dublin, if you couldn't guess!
A little keychain horse from Sweden which isn't really an ornament, but it works!
A big red lobster from Boston.
A tour bus from Niagara Falls.
And a crazy carved our gourd with a nativity scene inside from our honeymoon in Saint Lucia!
Happy holidays, everyone!
See you in 2016.