Before I dive in to this post, I wanted to let you know I'm going to do something I haven't done in about 13 years and take about a month away from blogging. I'll be back with safari photos and stories in early September. We're off to Kenya for about 10 days and moving to a new house a few days after we get back. There's all of the packing, organising and unpacking business to contend with and I have a feeling that blogging will feel like an obligation during the next month which never results in much worth reading!
In the meantime, venture with me to East London's Shoreditch – a part of the city that has changed immensely in the eight years I've lived in London – and then down through the financial district.
If you followed me back in the days of Little London Observationist, you'll know that I used to pop over to Liverpool Street every few weekends or so on a Sunday and spend hours rummaging through the markets in the area: Petticoat Lane, Spitalfields, Brick Lane, Columbia Road Flower Market and all of the little offshoots of these. Many treasures were found and, of course, many photos taken.
This time I took the tube to Whitechapel where the small market that stretches between Valance Road and Cambridge Heath Road was in full swing. Looking straight down past the end, you can see the tip of The Gherkin and the beginning of The City.
It's an area probably most famous for its Jack the Ripper horror stories and the lovely Whitechapel Art Gallery. You may also know it for the Whitechapel Bell Foundry which is the oldest manufacturing company in Britain and famous for casting Big Ben and Philadelphia's Liberty Bell.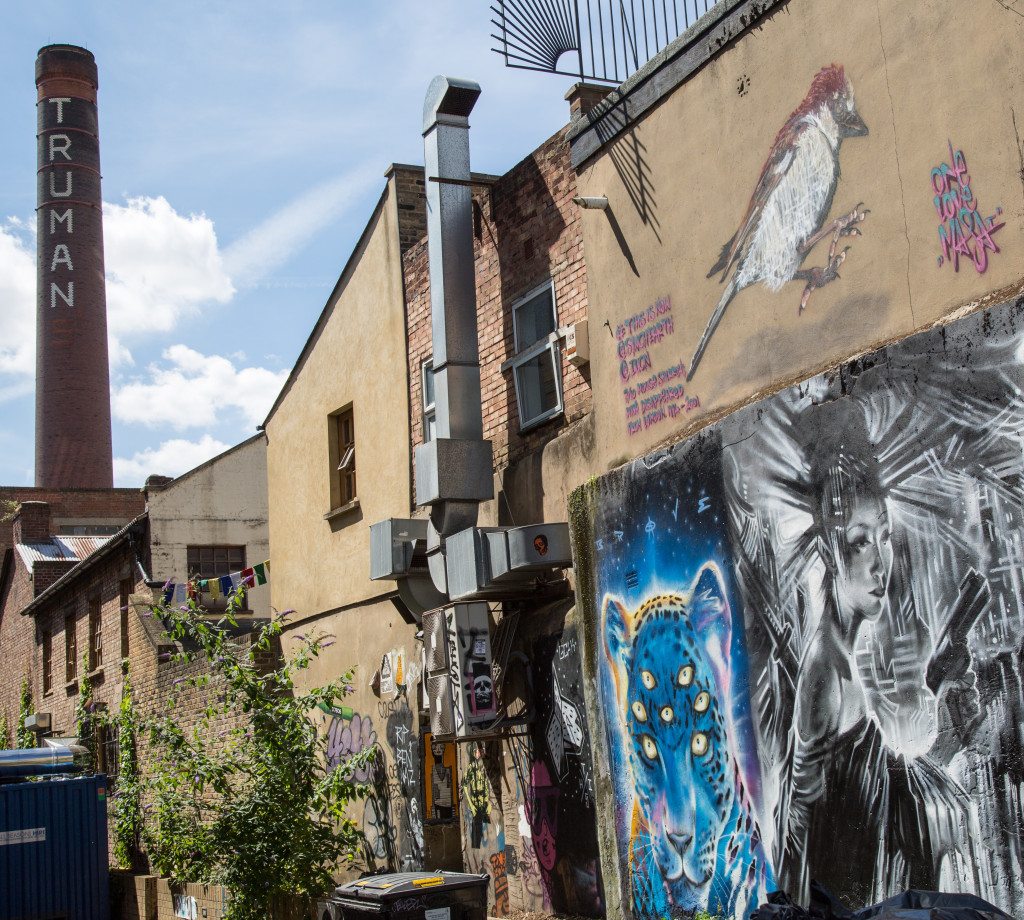 There's a wonderfully diverse population there and it's reflected in the goods that are sold in the market stalls and the signage on the streets and buildings as much as it is in the crowds. Students from the London Metropolitan University's Art School and Students' Union mix with Bangladeshi locals, families who have moved over from the West Indies to set up life in the area and a handful of Londoners from other parts of the city popping in for a visit.
It's a great place to pick up Asian spices like cardamom, turmeric and cumin, cheap scarves and fresh fruits and veggies. There are a few cafes where you can sit outside, sip your coffee and people watch – a fantastic place for that.
I made my way from there, cutting through the back streets with their pawn shops and council estates, down into Spitalfields City Farm to check out the donkeys rolling in the dust with the surreal background of the financial district and sleepy goats lying on the grass and then out toward Shoreditch High Street where an Athenian food stall was set up to sell souvlaki wraps. I didn't have one but if they area anything like Souvlaki Street that sets up shop at the Duke of York Market in Chelsea on a Saturday, then they'll be awesome.
The fence full of love locks outside of the overground station nearby grows more and more every time I stop by. I remember seeing it for the first time years ago when there were no more than about 20 locks starting the tradition that's been catching on through cities around the world apparently for many years. I've heard many versions of the story of their origins so I'm not quite sure which to believe.
I wandered through the Box Park with its trendy shops set up in shipping containers set up together like a mall of pop up fashion and food and drinks, down past the big street food fair set up in a car park, curving through back streets until I somehow ended up on colourful, bustling Brick Lane.
If I could look back at the top 10 streets I've walked down most in my life, Brick Lane would most certainly be one of them, but every time it's slightly different and although it has changed a ton over the years, there are still a lot of the same market vendors selling their wares, the two amazing bagel shops toward the far end, and the good old Truman Brewery standing tall amongst all of the changes.
While I was heading toward home, waiting at a cross walk, I heard my name called (which is something that just doesn't ever really happen in a city as big as London)! It was the lovely Lucy with a couple of friends on their way back from a meet up. What a nice surprise. We stopped to grab a bite to eat from a Turkish wrap stand and sat in a patch of grass weary of the nearby sprinkler system with the warning sign: "Automatic – may turn on at any time" or something along those lines.
We talked about the area with a hint of nostalgia, how there's now a Cos on the corner, how there are Prets everywhere and Urban Outfitters. Gentrification. It's less gritty now than it used to be and it's lost much of its edginess. There are street art tours, cocktails in jam jars, microbrewery ales, kale crisps and a place called Brooklyn Coffee.
It's still a pretty fascinating pocket of the city and like most areas of London, has a pretty distinct personality. Even though it's not quite what it used to be, it still amuses me to visit once in a while, walk the markets, see what new art has popped up on the walls, poke my nose in the galleries, eat a bit of street food and maybe a cupcake.
Lucy was heading off for a poetry / storytelling event in a cemetery and it was time for me to make my way back west. I decided to walk down through the city for a change and hop on the tube at Blackfriars.
Little prepared was I for the Prudential bike ride that meant the streets were rammed with people, bikes and traffic wardens trying to control it all. I bumped into a ramp competition outside St. Paul's Cathedral and people playing bike polo nearby. The beauty of the city revealing itself in the unexpected as always.
I don't often visit the city, especially on the weekend when everything is closed, so I enjoyed getting up close to The Gherkin, wandering through St. Paul's Courtyard and checking out the architecture in the area which is quite different from other parts of London.
And now, as I'm writing this, I'm thinking about more far-flung adventures, packing for a Kenyan safari in the Maasai Mara followed by a four-day Hindu wedding celebration on the beach in Mombasa. The photos and stories in the next post will be drastically different from these. With any luck, there will be plenty of elephants, cheetahs, Maasai tribesmen, white beaches, mendhi hands and colourful saris.
See you in September!