When Malibu asked me to be part of their #BestSummerEver campaign, one of the first experiences to go on my Best Summer Ever list was a night in the colourful Townhouse Deluxe room at The Zetter Townhouse in Clerkenwell.
Jorge and I have this quirky Georgian getaway in mind for a mini London staycation for quite a while now so we were excited to pack our overnight bags last Saturday and hop on the 19 bus for a trek to the east. We wove our way through unfamiliar side streets and arrived at a powder blue door across the cobbles of St John's Square from their original big sister hotel, The Zetter.
It was a bit early for check in but we wanted to have a spend some time exploring the local area, to play tourists in a part of the city that wasn't incredibly familiar to either of us. But first, we stopped to drop off our bags.
As you know, I love a place with character, and the Zetter Townhouse certainly delivers. We were welcomed into the cozy townhouse cocktail lounge by the smiling Dorota who led us to a table and sat us down with a glass of water while she checked us in from a laptop perched on a dresser. A bride walked past with her three bridesmaids – the third wedding we came across already that day and there would still be another to come while we were eating lunch!
There were a million things to look at in the cocktail lounge from mismatched oil paintings to antique vases to quite a few animals forever preserved by a taxidermist. It carries a certain intriguing flamboyance. The interior design is by a guy called Russell Sage who is apparently contacted any time anything is broken or needs replacing because his vision for the incredible look and feel of the place is obviously very personal.
It's been described as having a feeling of "lived in luxury – 200 years ago" and they definitely pull that off with everything from the decor to the furniture upholstered with what could be coffee or potato sacks to hiding technology in clever ways to make it appear older. It's like Russel's gone and raided a Victorian rummage sale and came back with a truckload of treasures to which he's given new life.
There are old photos everywhere, stuffed birds in glass boxes, china poodles, childhood train sets and all the attention to detail one could hope to find.
Of course, I spent a few minutes taking it all in, taking pictures. Dorota told us that the Kangaroo with the boxing gloves is called Henry and the cat in the blue dress is called Fifi. Sadly, someone stole Fifi's mini handbag and umbrella. Who would do such a thing, I have no idea… She also told us that Fifi wears a red velvet dress to keep warm in the winter.
When I mentioned I'd be blogging about our stay, she asked if we'd like to see the games room downstairs and perhaps a few rooms in The Zetter across the square. I love a private view, so we happily said yes. We were led down the newspaper and magazine collage covered staircase with images of Winston Churchill and old advertisements. Then, into a room with a ping pong table in the middle and a lush, theatrical sofa setting on one end. The room was, of course, designed to hide a large screen behind a wall that can be revealed and used for corporate meetings or other events.
We followed Dorota across the street and into the other hotel which has more of a hotel feel with a real lobby. It's still creatively designed with more of  a retro look, more modern as well. While not quite to the same extent, it does have a similar intimate atmosphere to the townhouse. It's much bigger with 59 rooms instead of 13.
We went up to a few rooms but were very impressed by the rooftop deluxe with its popping colours, beautiful flooring and terrace with lounge chairs where you can look over the city with the Shard, the Gherkin and St. Paul's Cathedral in full view depending on where you stood.
Downstairs, there's a restaurant, the Bistrot Bruno Loubet. We were starving so we decided to stay for lunch and use the discount we had since we were staying in the other hotel. It was a decision we did not regret!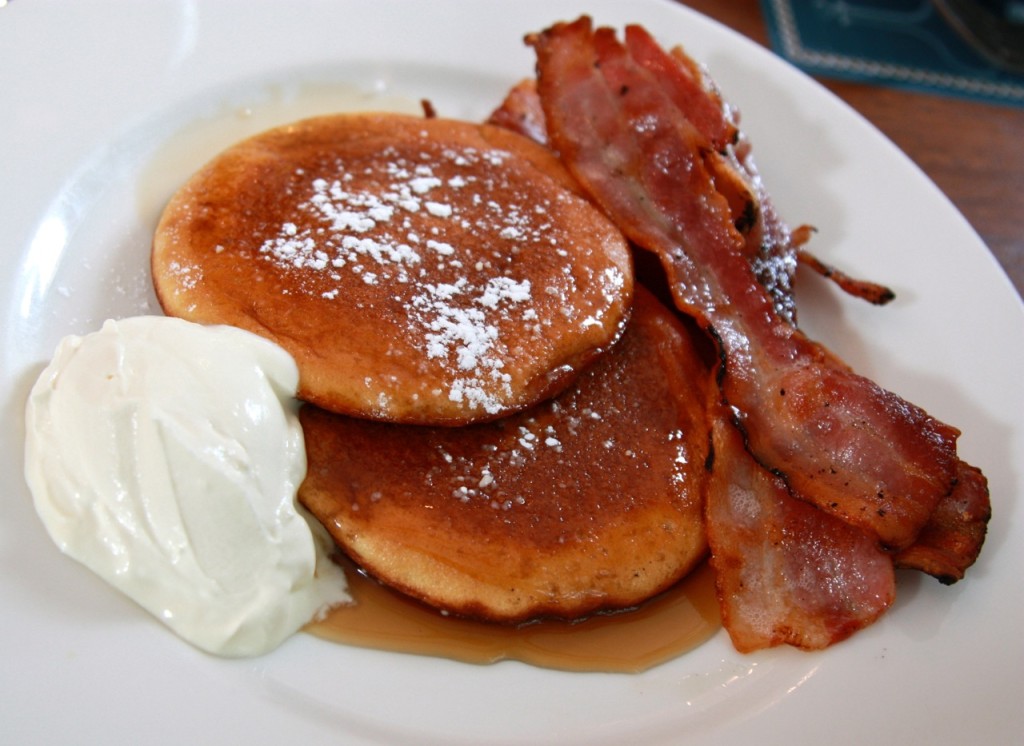 The food was excellent. I had American pancakes with maple syrup and applewood smoked bacon. Unlike the unnecessarily huge stacks of pancakes we see back home, this was only two – a perfect amount that didn't go to waste. Jorge tried the pea pancake with poached egg, crispy pancetta, balsamic syrup, which was also delicious. In fact, he liked it so much, he went back the next day and ordered the same thing!
It was time to go back to the townhouse to see our room. Dorota told us we'd be staying in number 11, which was her favourite. We took the lift to the third floor and walked along a stripped carpeted hallway to the end where we were shown one of the coolest rooms we've had the opportunity to stay in on our adventures – and we've stayed in some pretty quirky places (like the playful Hotel Fox in Copenhagen, Marilyn Monroe-themed Platine in Paris and the Arthouse Airbnb in Amsterdam).
First of all, it had a bathtub out in the open along one wall, with tiny gold tiles and a convex mirror in the middle. There was also a private shower, bathrobes and slippers with black smoking pipes on them and lovely scented REN shower gels, soaps and shampoo.
The bed was amazing to look at with what looked like the salvaged old railings of a staircase with layers of coloured paint as the headboard. There was an armchair and a table full of magazines including two of our favourites: Conde Nast Traveller and Wallpaper. 
There was a small writing desk in one corner with an old-fashioned black phone and radio that looked old but was really not and had an ipod dock. Above the desk, a small shelf of books. There were little antique touches everywhere.
Next to the writing desk was a fireplace and then a really cool old cabinet hiding a mini fridge fully stocked with all you needed to mix your own cocktails and a cocktail mixer set handily on the desk. They give you loose leaf tea which I loved and decent coffee too along side a nice selection of snacks. There's also a 24 hour menu with nibbles which we didn't order from, but was great to know existed.
There's a whole section in their reading material about all the ways in which the hotel is sustainable which was pretty impressive. The air con even switches off automatically if you open the windows.
From our window next to the bed, we had a great view of the Shard which is lit up at night. It felt really homely, like we were sitting in our new fabulously decorated bedroom rather than a hotel and I loved that. You can even rent bikes from the hotel if you like.
There are black our curtains as well which were excellent because I am a very light sleeper. It was a quiet place too. In fact it would have been ideal for sleeping really if it wasn't for an annoying green emergency light above the door which is very close to the bed and impossible to turn off. Combined with pillows that were way too soft and fluffy for me, it made for a restless night.
But before bed, we fit in quite a bit. We walked about 5 or 10 minutes to the nearby Exmouth Market which I'll write about in a separate post. We wandered through Clerkenwell into Holborn where we paid a quick visit to the British Museum, swung by the fabulous London Review of Books shop and also popped into the nearby Thomas Farthing, a sister shop of Stumper & Fielding on Portobello Road. I even spotted a Stinkfish piece on a shop shutter.
Then we headed back to Farringdon to try out the newest branch of our favourite London Spanish restaurant, Iberica. I wrote about the Marylebone branch a few times on Little London Observationist and we've been a few other times since. I'll write about Iberica Farringdon in a separate post soon!
And then, it was time for the cocktails. We walked back in the chilly London night which is already beginning to feel like Autumn, believe it or not. There are a few changing leaves and even a couple of crispy ones blowing along the pavement. We were happy to be back at The Zetter Townhouse to enjoy the full splendour of their famous cocktail lounge headed up by mixologist Tony Conigliaro. The music in the lounge could throw you into a scene from the Great Gatsby or take you on a carousel ride on a 1960's fairground. Drinks are mixed behind an apothecary style counter and include a lot of homemade syrups, cordials and tinctures.
Jorge ordered a Köln Martini -Beefeater gin & dry Martini with a hint of homemade citrus aromatics. The waitress added a few drips of something else from an eye dropper. Too dry for my liking. Mine was much sweeter – The Flintlock – Beefeater 24 gin, gunpowder tea tincture, sugar, dandelion & burdock bitters & Fernet Branca. Mine was lit on fire when it arrived. Dramatic. Besides the initial gimmicks of fire and potion, the drinks themselves were all about the ingredients. They aren't for those who love a garnish – no strawberries dancing around the edges here or thyme leaves swimming on the top. These are strong and serious.
We were seated in what was probably the best place possible – on a sofa at the front next to Fifi, the taxidermy, umbrella-less and handbag-less cat. It really does feel like you're sitting in some old, rich, eccentric's living room with a bunch of other random strangers.
Happily, at the end of the night, we took the lift up to bed rather than the bus back to Chelsea!
Likes: Our welcome from the lovely Dorota who gave us a truly special experience, the fascinating interior design of both the cocktail lounge and the rooms, the view of the Shard, the bathtub, the little cocktail mixers in the fridge, the blackout curtains, the delicious food, attention to detail all around.
Dislikes: The too-soft pillows, the emergency light above the door, and, for me, the Köln Martini, though it's surely a matter of taste. Also, the local area is all but dead on a weekend, with its proximity to the city. They're soon opening a new Marylebone branch though, which will solve that one.
The Verdict: A fantastic weekend and definitely a place unlike any other in London. Design wise, a big thumbs up all around. Excellent staff and food. Quality of sleep? Not so much, but with a different choice of pillow and something to block out that green light, I'd be back.
Thank you, Malibu. I'm looking forward to the rest of my #BestSummerEver list:
A night at the Zetter Townhouse with cocktails – Tick

Dinner at The Ledbury – Coming soon
Dinner at Hibiscus – Coming soon
Afternoon tea at Claridges – Coming soon