"A hundred times have I thought New York is a catastrophe, and fifty times: It is a beautiful catastrophe." 
Le Corbusier
New York City, on most occasions, is that place I'm not from when I say I come from New York. It seems to be common assumption that if you're from New York, you're from the city, which in reality is only a tiny speck of land space compared to the rest of the state.
Most new conversations start out something like this:
"So, where are you from?"
"New York, you?"
"Oh! You know xxxxx street in Manhattan? I love it there. And the last time I was in New York we went to xxxxx." or "My sister/boss/dog is going to New York in September! Where should they stay? Where's the best place for xxxxx?"
And then they get a blank stare from me because I barely know NYC at all. Where I come from in New York is a six or seven hour drive diagonally across the whole state and about 10 minutes from the Canadian border.
It's another world.
The first time I visited the city I was 18. I've been back a few times since and I'm getting to know Manhattan a bit better, but I'm still a complete stranger there.
It's a place I wish was more familiar to me.
People ask me why I live in London if I'm from New York.
The answer is partly because New York feels too claustrophobic, cold and unfamiliar at first glance.
I think you have to embed yourself there for a while, wedge yourself in, choose a neighborhood and make it yours before it would feel like a decent place to live.
Maybe that's what I've managed to do in London and maybe that's why the second part of my answer to that question is because I just love it here.
The things I find I enjoy most about New York are actually the same things I enjoy most about London: The diversity and the people watching, the mixture of languages, the quirks of city life, the creativity, hidden gems, relaxing cafes, tiny streets to explore, green spaces and street art.
Last October and this July, Jorge and I spent a bit of time in New York City.
More about the October trip in another post.
This time, in July, we arrived in the middle of a heatwave so hot that people we uncapping fire hydrants and playing in water in the streets to cool down.
It reached up to a 41C / 106F real feel temperature.
Shower in the morning, step outside and walk 10 feet and you need another.
This was not the norm though and there are many great things about New York that I appreciate: rooftop gardens, the High Line, shopping, fascinating architecture and cheap taxis which we took everywhere on both trips.
I love the warm Summer evenings of New York – both in the city and upstate.
London cools down pretty quick.
New York also gets a point for breakfast bagels.
We perched on bar stools every morning enjoying ham, egg and cheese nicely layered and melted onto freshly toasted bagels. London has the Brick Lane bagel shops which definitely put up a fight, but there's nothing like the bagel shops on every corner in New York City.
Also on every corner, there seemed to be (super cheap!) nail salons (cue necessary manicure and pedicure to escape the heat), laundromats, dry cleaners and shoe repair shops.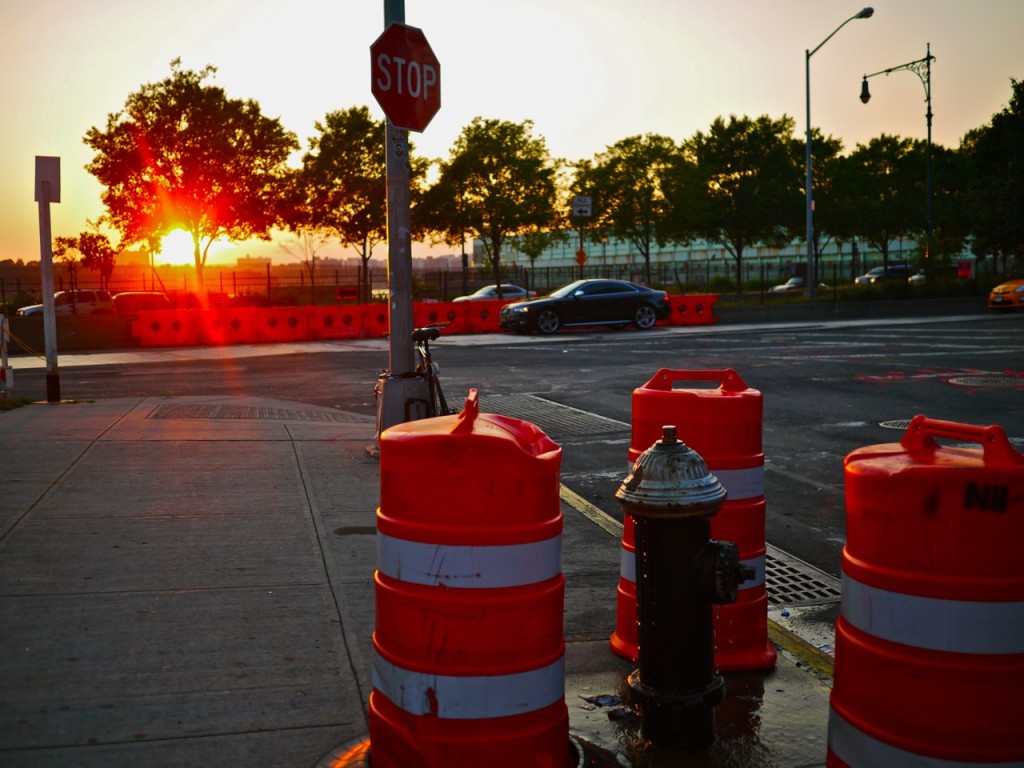 While all of these exist in London they are nowhere near as prevalent.
What struck me most about New York City this time was just how loud it is.
There's constant traffic, honking horns, growling busses, motorcycle engines, sirens, music blaring from cars and shops. There's construction, people yelling, metal clanging, garbage cans banging around. You walk into a shop and someone is instantly talking to you, greeting you, asking you if you need any help.
The noise never ever stops.
There's silent noise too – the constant bombardment with advertisements.
Also, the smells seem to linger in little pockets.
There's sweet flower shops with open doors, fresh fruit stands, last night's 3am piss wafting from an alleyway, the chemical scent of a nail salon, a pile of rubbish leaking rotten food, an overdose of perfume from someone heading past in the opposite direction, cigarette smoke, Chinese food stalls, pizza joints and car exhaust.
There's pockets of hot air and pockets of cold from air conditioning shooting out of open shop doors, from vents in the pavement, the hot spurt of air from a bus engine and heat emanating from hot dog stands.
Apart from the assault on the senses, there's energy in the city. Plenty of it. Excitement. Things happening.
It's the least stagnant place I've visited in quite a while.
Although oddly, there's a distinct lack of wi-fi, which doesn't matter to New Yorkers with American phones, but it makes life unnecessarily difficult for those of us who don't have 3G and have to hunt down a Starbucks (ugh!) every time we need a map.
It seems it would take a lifetime and then some to truly know the city inside and out.
And that goes for Manhattan alone.
One of my best friends lives in the city. She lives what appears to be the dream life you see on TV in a gorgeous apartment with exposed brick walls and a garden on the upper West side of Manhattan making her living full time now as a writer, telling stories of shoulder brushing with Sarah Jessica Parker, shopping and travelling in her free time. She also has a gigantic friendly cat who I envision likes to curl up in her office that overlooks the garden while she drinks her coffee in the morning.
The first night, we visited her and her boyfriend.
We sat in her back garden drinking homemade margaritas, eating fish tacos and an amazingly fresh, simple salad with mozzarella, tomato and basil from her herb garden.
A few nights later, we met again at The Standard near the High Line for drinks. It was pretty empty when we arrived but filled up incredibly quickly with stylish people.
We followed that up with pizza.
Then we caught a glimpse of a beautiful sunset over the water.
The best food, on both recent New York trips, was the chef's taster menu at Sushi of Gari. It's completely worth a bit of a splurge.
Though we didn't venture out to explore other boroughs on this short visit, we did take a train out to Long Island where my dad happened to have a job that week and met him for dinner.
It was a far cry from the bustle of Manhattan!
We also took a few hours to visit the 9/11 memorial garden which wasn't really worth the trek, but it was free and we got to see a different part of the city.
I'm sure we will be back before long. I had fun playing tourist and skimming but I'm ready to dig in and see more of the real New York.
Despite a great few days, we were happy to leave the oppressive heat and be back home in comparatively quiet and chilled out streets of London!