Meet Marisa, whose vibrant, colourful and positive children's prints I was instantly attracted to when I first saw them. She's relatively new to owning her own business, but has a really solid product line, is genuine in her approach to social media and marketing her work, and is absolutely lovely in person as well. Below, she talks about what sets her prints apart from others who target a similar audience, the story behind the name "Milk & Mustard", and the recent launch of her whimsical new collection of cards.
LITTLE OBSERVATIONIST: Give us your tweet-sized elevator pitch. What's your business all about?
MARISA WESTCOTT: I design typographic prints for kids aimed at growing their sense of empowerment and self belief, using positive affirmations and inspirational quotes. I also create personalised prints to mark childhood milestones.
LO: Now tell us more: What sets you apart from your competition?
MW: I think there are a lot of beautiful nursery prints that are available. However, I wanted to offer something that would have real meaning to children and their parents, that goes beyond the usual nursery rhyme wording, which is where I came up with the concept of using inspirational quotes and word play to reinforce the messages of being empowered by our own individuality and self belief. I struggled a lot with self worth growing up and so it was important to me that our children understood the value of believing in themselves. I truly believe in the power of reading and the impact of words on children, so it felt quite natural to tie them together in creating typographic prints that provide children with positive affirmations that they can relate to easily – often using quotes from well-loved children's books. I love rainbows too and I also really think that colour can cheer up low spirits, so a lot of my prints are super colourful to lift energies as well as brighten up a wall!
LO: Share a bit of background on yourself and your business.
MW: I live in London with my husband and our 3 kids (6, almost 4 and 2-years-old) and our dog. Pre-kids, I worked in advertising agencies and then marketing client-side and I always had a love for design. When my eldest was born, I couldn't really find any prints that I wanted to decorate her nursery with, so I started creating my own, and more for friends. That's probably when the seed of starting up a business was sown.
Then, over the next few years, when the boys were born, I realised that I didn't really want to go back to an office job again, and also the childcare costs were absolutely prohibitive anyway for me to do that! So it felt quite natural to tie everything up and start Milk & Mustard creating prints that I love, that hopefully have a positive impact on the children who read them. The name came from my daughter's allergies to dairy and mustard; I wanted to turn something that could be perceived negatively into something positive because Milk & Mustard is all about celebrating individuality.
LO: Which social media platforms do you use for your business? Has this been time well invested? Any tips for newcomers?
MW: Well l was total newbie at social media when I started Milk & Mustard, so I'm the one after tips! I have a Facebook Page and Instagram, and this was a platform I had never used before starting the business. It's been a slow build for followers but I'm trying not to get too hung up on the numbers as I know it's the focus on engagement that matters. I think that if all the experts say don't buy the followers – then don't buy the followers! I recognise the pressure is immense to have this huge following. Of course I'd be lying if I didn't do a jig if I just jumped to thousands, but I want the Milk & Mustard account to be genuine, because the brand is all about being true to yourself, so if it's a slow burn, then that's how it will go.
LO: What's the best piece of business advice you've been given that still resonates with you today? And your favourite resources for small business?
MW: As I'm just starting, I'm still figuring out which pieces of advice are lasting and which are more fleeting. I have only just discovered podcasts! Bit late to the party, but I love the ones which feel like they are mates talking to me and which are relatable in subject matter. So I am liking the Doing It For The Kids podcast, and also Letters from a Hopeful Creative, which also always give me hope too!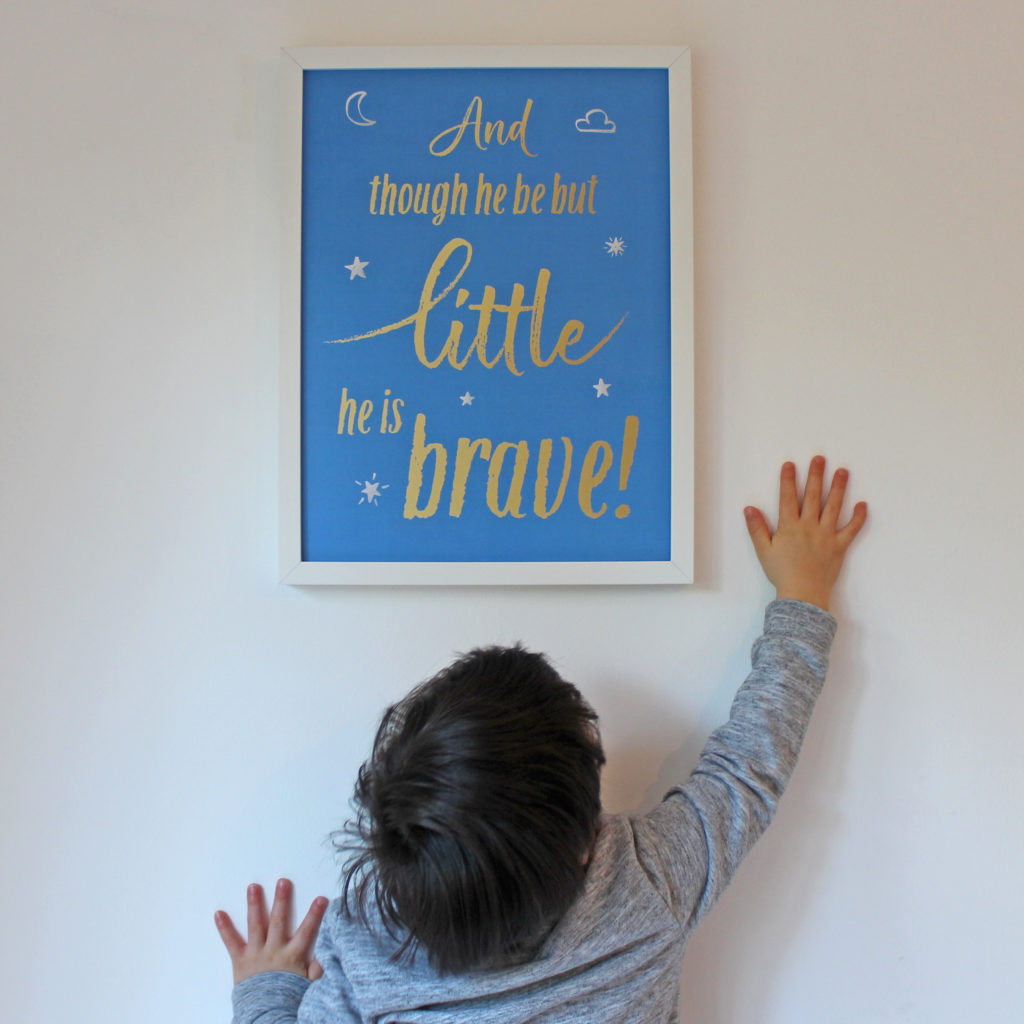 LO: What have been your biggest challenges and greatest rewards as a small business owner?
MW: The biggest reward for me is probably whenever someone buys something! The feeling that this wouldn't exist without my input is definitely a high point. One of the biggest challenges I've found is pricing items; as a small business you don't get the economies of scale that larger companies do and people are quite used to "bargains" and buying cheaply now – although there seems to be a bit of resurgence towards independent businesses, so fingers crossed that momentum keeps going!
LO: What are your hopes for your business going forward: what would you most love to achieve as a short-term goal? And long term?
MW: Short term, I've just started a new line of greeting cards and I'd love to expand on that along with some new prints and some items for Christmas this year. Long term, I'd like to have a bit more strategy on my online presence to really build the business up.
LO: Little Observationist is all about appreciating life's little luxuries. Name three you've enjoyed recently.
MW: I absolutely love coffee and I had the best flat white recently at our local Italian ice cream shop in Wimbledon, G Like Gelato. The milk was absolutely perfect and not too hot; despite loving coffee, I'm a bit of wimp with really hot drinks!
I also was lucky enough to get a ground pass to Wimbledon this year and there was nothing better than being with friends watching a good tennis match, enjoying amazing sunshine, and the first Pimms of the year!
Also it's not quite so "little" as a luxury, but a couple of months ago I finally upgraded my rather smashed-up iPhone 6 to an XR and am loving being able to see properly on my phone screen again!
Connect with Marisa!