Earlier this year, on a casual Saturday visit to the Duke of York Square market near the Saatchi Gallery on King's Road, I saw a long queue leading to a food stall called Souvlaki Street. I hadn't seen them there before and was curious about their popularity. One bite explained it. They quickly took on the role of my favourite savoury street food stand in London. And there's a lot of competition. I've been back to see them many times since and have even tried to recreate them at home (which never taste as good, of course). They are only in SW3 once a month, but you can find them elsewhere around the city too.
Below, founders of Souvlaki Street – Evi Peroulaki and Conor Mills – answer a few questions about their motivation to start their small business, a few of the challenges and rewards that come with carving out your own path and a very reasonable short-term goal.
Catch them where you can if you're in London; you won't be disappointed.
Little Observationist: Give us your tweet-sized elevator pitch. What's your business all about?
Souvlaki Street: Mouthwatering Greek wraps take over the streets of London.
LO: Now tell us more: What sets you apart from your competition?
SS: We can proudly say that we were the very first mobile souvlaki stall in London! And from the very beginning we had agreed that we would never serve a wrap that we wouldn't want to eat ourselves. There have been several souvlaki stalls since that have sprung up around the city but we are confident that our quality standards always place us at the forefront.
LO: Share a bit of background on yourselves and your business.
SS: The idea started purely out of selfishness. Both of us longed for all those delicious wraps we had been having in Greece but could not find anywhere in London. So if it doesn't exist, then make it yourself, right? Luckily our little experiment was very popular from the start and that encouraged us to turn our greed into a full-time venture. Souvlaki is the most popular food in Greece. It is informal, messy and can be eaten anywhere and we wanted our name to reflect the casual character of the food. As a market stall, we do not really have a permanent home. We operate in the streets of London – mainly central, the City and south on Saturdays.
LO: Which social media platforms do you use for your business? Has this been time well invested? Any tips for newcomers?
SS: We use Twitter and Facebook to announce our news and weekly locations and Instagram mainly for visuals. People want to see mouthwatering images of food before trying it and with so much yummy stuff happening around London, you've got to stick out.
Tip for newcomers? Don't get fake friends/followers as tempting as it might be. Be true to yourself and win them instead. Plus, the expert eye can always spot a faker and it looks desperate!
LO: What's the best piece of business advice you've been given that still resonates with you today? And your favourite resources for small business?
SS: It is always harder than you thought it was going to be, so if your heart's not in it, then don't do it. Our best resource is our own mistakes; without them we wouldn't have gotten to where we are now.
LO: What have been your biggest challenges and greatest rewards as small business owners?
SS: Our biggest challenge is to stay on top of your game. It is a free market economy and the competition is fierce, so there are no guarantees that is going to last forever. But when we see our customers coming back every week for more, then this is the greatest reassurance we could ever ask for.
LO: What are your hopes for your business going forward: what would you most love to achieve as a short-term goal? And long-term?
SS: A short-term goal is to claim back our flat which, for the last three years, has been a kitchen/storage area for the market. We literally have to climb over cool boxes to get to the bedroom. So, maybe a separate prep unit that we can operate from.
Long-term plans…these are still cooking.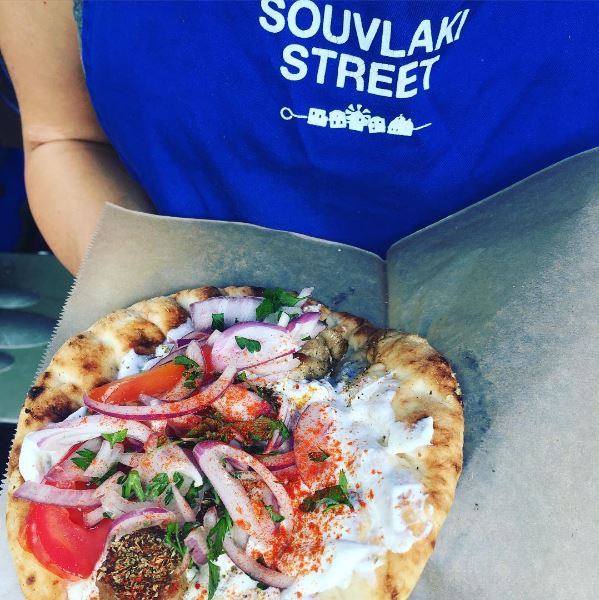 LO: Little Observationist is all about appreciating life's little luxuries. Name three you've enjoyed recently.
SS: Aren't we all! Surfing in San Sebastian, daytime cinema visits, passion fruit.
Thanks Evi and Conor!
Follow Souvlaki Street:
Website
Instagram
Twitter
Facebook
Email: kalimera@souvlakistreet.co.uk