It was the hottest day of the year in London and I had the afternoon to myself. What do I do? Spend it wandering around through fields and trails in the blistering heat. It was worth it though. I had taken a look at the handy notes I keep on my phone, the ever-growing list of things I want to do in London, places I want to go for one reason or another, exhibitions, restaurants, etc.
One of those things I didn't mind doing on my own was exploring the London Wetland Centre which is south of the river in Barnes. And so I stopped at Paul for a cup of tea for the tube journey to Hammersmith and 15 minutes later found myself navigating road works and all sorts of madness to reach the Hammersmith Bridge. I could have taken a bus (and I'd probably recommend it), but I thought in such beautiful weather it might be fun to take a stroll along the river, a section I'd never walked before.
It's a pretty bridge to cross on foot, painted green with a pedestrianized walkway along the river. It has a bit of history behind it in that it was twice attacked by the IRA and then the Real IRA many years later. A steady stream of cyclists and joggers crossed the bridge heading for the Thames path. I felt a bit lazy meandering along while they sped path, but I bet they didn't stop to admire the wild blackberries that grow along the water or the way the light hit purple thistles.
Some way down the path, I came to a sign that directed me off the trail toward the London Wetland Centre, another 10 minute walk or so along the fenced off edge of the grounds. I paid about £12 and grabbed a map from reception. There are guided tours and the like, but I was content to wander.
Stepping inside, the fact that I was still in London seemed strange. It was silent for the most part and they had even sectioned off areas where kids weren't allowed whereas others were specifically tailored to their interests which made a nice balance.
You could choose between the West Route and the South Route. I headed West. I wanted to see the otter pond. I made it there eventually, stood around for a bit. No otters. I tried back later in the afternoon. Still no otters. Apparently there are specific otter feeding times, so I probably would have had better luck with one of those.
The otter are is part of the Wetlands of the World section. Nearby, there was a forest lodge, a small bamboo forest and then I stumbled upon the yurt, which was unfortunately closed but had a stunning green door. This area is full of ducks, swans and water birds from all over the world. There's also insect homes, huge towering wood blocks with tiny holes.
Everywhere, people walked around with long lens cameras and binoculars in this birdwatchers paradise. There are even hides where you can duck inside and watch from open windows. While looking through a pair of the binoculars provided, I had a random conversation with a man who spends a lot of time there. He told me where to look and what I was seeing, which was great because I am pretty clueless about bird types (despite the fact that my dad makes and sells bird feeders and nesting boxes as part of his small business…).
After the Wetlands of the World, you head into the Wildside section which is full of reedbeds, buzzing creatures and twisting trails through pretty flowering meadows. There are tons of butterflies and dragonflies flitting around the wild flowers and signs about frog types and how to spot a lizard (I didn't).
At the end of this trail, there's a wildside hide that overlooks the Reservoir Lagoon. I headed back from there along the Main Lake to area where I came in which has a courtyard, theatre, cafe, discovery centre and, of course, a gift shop.
From there, I took the South Route which was much more geared toward families, kicking off with a Pond Safari and Pond Zone areas. I enjoyed the Sustainable Gardens and the walked along through another meadow like area. I took a trail that led to what turned out to be my favourite place: the Peacock Tower.
I'm not sure why it's called the Peacock Tower, but it had a few different floors you could visit to look out over the park at all angles. I climbed to the top to see what I could see. From there, it was a stunning place. You looked over the Grazing Marsh, the Main Lake, the Wader Scrape and the Sheltered Lagoon. You don't realize quite how much water there is in this place until you see it from the top.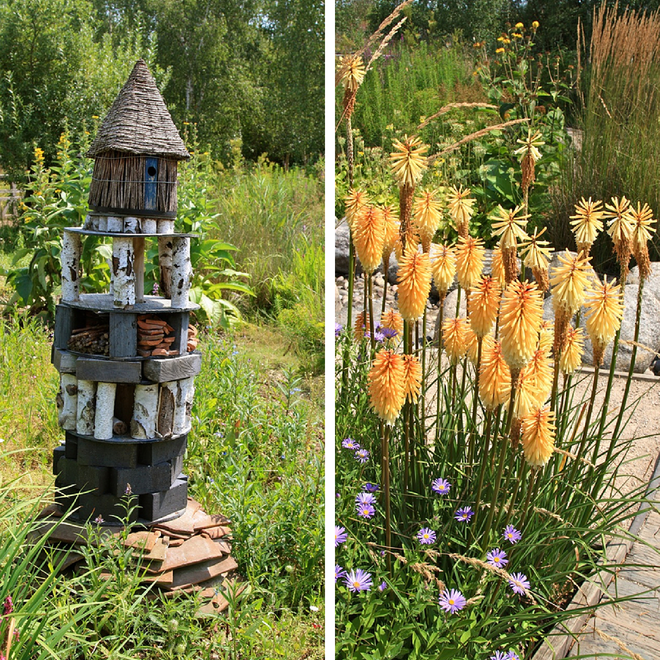 I headed back then along the Sheltered Lagoon, past the Sand Martin Nest Bank, the Berkeley Bat House and the Explore Adventure area. I was roasting by then and having worn sandals, my feet were practically black. It was time to head home!
One of the beautiful things about this place is that if you close your eyes and you're on your own, you don't hear the sirens and the London traffic racing by, the roar of racing Ferraris or any of those city sounds. You hear the buzz of bees, the coo of birds, the wind rustling the meadows and the splash of frogs and fish in the lakes. It feels like a true escape.
I'd definitely recommend a visit, though it's not a place for rushing. I spent four hours walking around the extensive trails and if I would have stopped to look at everything and waited for wildlife to appear, maybe find a bench to cosy up with a book for a bit, I could have stuck around for a lot longer. All in all, it's a bit of a pain to get to, but if you're looking for a bit of tranquility and nature, it's definitely worth the effort.
If you're interested, they have some great little video clips on their website (including of those elusive otters) and all sorts of info on their conservation efforts.