One day, back in 2009, I was walking down Cheshire Street in East London. A pink wall with the words "Thank You Stranger For Your Therapeutic Smile" scrawled on top caught my eye. I thought it was one of the most beautiful things someone could write in a city of so many strangers who rarely so much as make eye contact in the streets. It surely was a story of one of life's little luxuries – a connection, however brief, with another Londoner, that made someone's life slightly better that day. The canvas print I created from the photo I took that day was the first one I sold in my exhibition a few years ago. It's printed on a postcard too, hanging on the wall near my desk at work. I see it every day, even now some six years later.
And while I will probably never find out who the person was that smiled, Jade emailed me earlier this year, having seen my print. The writing was on the wall of her house and she created this little piece of street art with a friend who was having a bad day, who was cheered up by this smile from a stranger.
I love it when a story comes full circle and I was thrilled when she agreed to answer a few questions for Little Observationist. Meet Jade Kenny.
LO: Tell us a bit about yourself.
JK: I grew up in East London – more green and leafy – but still technically the East End. My parents were born in the proper East End – my Dad used to sell fruit on Brick Lane Market and used to box in the club down the road. They obviously moved out to greener pastures and are a bit lost as to why I would chose to live here now. I am working on them – but I think I am gradually persuading them that I've made the right choice – our flat is off Brick Lane on a lovely, quirky street called Cheshire Street.
We live in the flat above where the "Thank You Stranger for Your Therapeutic Smile" graffiti was made. At the time, the downstairs was run as a coffee shop by my now husband (back then a boyfriend) and myself while we were at university. We've lived in our house for 12 years.
I did a lot of academic things in my youth via Oxford and London and was an employed barrister when I fell pregnant with our son. Since he has been born I've been on a career break – seeing London through his different and very wide and curious eyes.
I love yoga (when I get the chance) and Stretch on Columbia Road is my most favourite place to contort my body. Other than that I love climbing at The Castle in Stoke Newington. I dream of scuba diving and skiing and hope it won't be too long before I get to experience that mega joy again – it's hard to schedule that kind of thing with a two-year-old.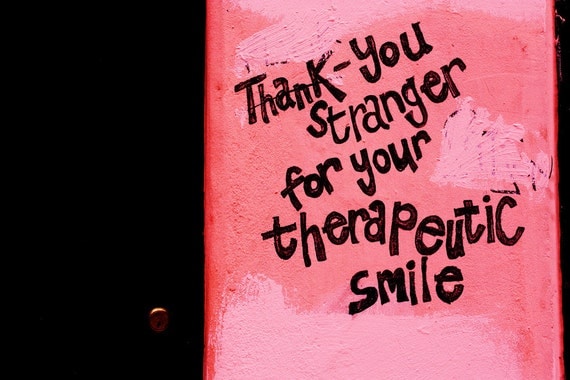 LO: Way back in 2009, I took a photograph of a wall in East London with the words "Thank You Stranger for Your Therapeutic Smile". Can you share the story behind this with us?
JK: My best friend had just had her heart broken by her first love. She was sitting on the tube coming back from giving him his stuff back and was completely distraught. Whilst she was sobbing a stranger kicked her (nicely) and smiled at her. This random act of kindest caused her to burst into laughter.
We'd arranged for her to come to mine afterwards for tea and sympathy. She arrived and explained to me what had happened. I was taken by the story and also wanted to make her feel a bit happier. The line is a lyric by a band called Bright Eyes. I played it to her and she laughed and said that was exactly what happened. I said we should try and make it permanent.
So we both stood outside my flat with marker pens making the picture you took. We had a couple of people threaten to call the police – but we figured it was too important to stop. Thankfully no police turned up.
LO: Did you have any previous experience writing on walls or was this completely new to you? What was the reaction from people around you and later online?
JK: Well, I'm a lawyer so I don't tend to make a habit of drawing on other people's walls! It was a completely new, one-off; however, if someone wants to legally permit me to do it again I would jump at the chance. I was absolutely blown away by the response to it. When it eventually got painted over someone was kind enough to try and replicate it a bit further up the street. I thought that was really lovely. Actually seeing the imitation was in many ways lovelier for me than the original because I guess it meant it clearly affected someone and motivated them to feel the need to get the message on the road again. Whoever that person was, I'd love to buy them a cup of tea. It feels very weird to think that it has made its way into Chelsea art galleries and the blogs and hearts of people worldwide.

LO: Living in East London, you're surrounded by street art. Do you have an appreciation for this or any favourite artists?
JK: I completely love it and the canvas changes everyday. I am huge fan of Jef Aerosol who is a hero in his own right. He painted on our wall once and it got painted over. We tried to persuade him back but it didn't work!

LO: Have you ever had a memorable interaction (however subtle) of your own with a stranger in London, a city notorious for people who are weary of strangers?
JK: I'm a Londoner so I obviously feel like we get each other and the weariness is very superficial. That said, I have a huge love of the wonderful women in the Beigel Bake on Brick Lane who have fed my son beigels to teethe on since he was 6-months-old. I genuinely think they were a bit wary of me feeding such a small child a fresh baked beigel whole but they have been so warm and lovely and we go everyday so we are not strangers anymore. They started as strangers and now they are wonderful fonts of knowledge and kindness during very overcast days. I think because of the vastness of London, a chink in anyone's armour means they can become friends very quickly. Perhaps that is the flipside of living in a city notorious for stranger dislike – we value kindness and friendship very highly.

LO: Having chosen lyrics to write on the wall, are you into the London music scene? Who are a few of our favourite artists? Best place to catch a gig?
JK: The Roundhouse is fantastic; it feels hugely immersive and you can get very caught up in things. St John's chapel in Islington is also a wonderful place to hear some soaring music with acoustics that the irreligious might otherwise miss out on. I grew up with R.E.M and they will always have a special place in my heart and record collection. Although I have a pretty eclectic taste, the current records on my Brick Lane purchased old record player are Of Monsters and Men, Hot Chip, the XX, Caribou and a healthy sprinkling of Above and Beyond.
LO: Have you written on a wall since that day in 2009? If you could write a new message, what would it be now? What would you hope for people to take away from it? JK: No, but if I could, I would write: "Do you realize that happiness makes you cry?". This is a lyric from The Flaming Lips and I have cross-stitched it in a frame to remind me every time I leave the house. I feel like it perfectly captures the interconnectedness of these two polar opposite emotions. Many of the times I've been most happy I have equally been most sad (and of course the other way round). We experience moments of joy at funerals and moments of sadness at weddings. I'd hope that if I wrote that on a wall now that people would take away a sense of the universality of being a person. We forget living in London that we are all at heart the same; we get caught up too much on the differences. I live in Tower Hamlets, a hugely diverse borough, rich and poor, but I am often amazed and overjoyed at the similarity between all of us who chose, or happen, to live here.

LO: What are a few of your favourite London discoveries? What's special about them? JK: Regents Canal is so phenomenally beautiful and peaceful and like another world; I love to cycle it. There are ducks and there is the best café in the world – Towpath. We found it by accident and their all day gin is beyond wonderful. Liquid nitrogen ice cream (the creamiest ever) at ChinChin Labs on Camden Lock would complete that bike journey. I have also recently cultivated a love for the Hornimum museum – they have a giant stuffed walrus and that is sufficient incentive!
LO: Little Observationist is all about appreciating life's little luxuries – as simple as they may be. What are a few that you've enjoyed recently?
JK: Some chocolate from Paxton Chocolates on my street (Cheshire Street) – they are so beautiful and so fantastically moreish. A bottle of captivating wine from the brilliant Fox's Knocker on Columbia Road and feeding the squirrels of Haggerston Park (though I am not exactly sure you are meant to do this).
LO: What would make this year the most happy, fun and successful for you?
JK: Since having a wonderful little human, my priorities have obviously shifted and that includes what constitutes "happy", "fun" and "successful". But without doubt, I would love many more nights snuggled up and reading with my son and my husband in our bed.
I love interior design; my bathroom has revolving disco balls and my door number is made from dominos. In particular, I've loved creating an interactive Montessori inspired environment for my son including a pimped up tipi and a nursery with fake grass. Given the chance, I'd love to explore that avenue further; I have a creative itch I'd love to scratch.
Other than that, it would amazing to go back to Tulum (Mexico) as it is my favourite place in the world (after the East End).
Thanks Jade!
There's a couple Thank You Stranger postcards left in my Etsy shop, mini notecards (not listed separately, but I do sell them separately so just ask if you're interested!), canvas prints and paper prints available!