It was 7am. An earthy scent of freshly-shifted soil and scented blossoms hung in the heavily overcast sky. Photographers, journalists, judges, designers and workers strolled around the sprawling grounds of the Royal Hospital. It was press day at London's famous Chelsea Flower Show and I had one hour to whirl around with my camera before rushing to work. As always, I took far too many pictures and am going to attempt to cram as many as I can into this post!
I am hopeless with plant names, not to mention keeping them alive, but I love this show. This was my third year visiting Chelsea on press day and it's so nice to be there without the crowds for a little sneak peak. As I don my fluorescent RHS Press vest and head toward the entrance to scan my wristband, I can't help but think about what an incredible feat this whole show is and how much work, creativity and effort from so many people has gone into making it happen. The big show gardens are built on the grounds from scratch in just 19 days and they're taken down as if nothing happened just five days later.
For anyone who doesn't know much about the Chelsea Flower Show, apart from a few gaps when the World Wars were going on, this show has been running every year since 1913 and is the most prestigious in the country, attracting designers, sculptors, nurseries and others from around the world who perfect their spaces down to the last detail for the judges. There are 550 exhibitors and some 161,000 visitors for tickets that sell out long before the dates arrive. The Royal Family visit on every opening day every year.
I set out walking. There's so much to look at, an hour wasn't enough to absorb everything, but I quickly chose my favourite garden which won a silver-gilt medal: The Beauty of Islam Garden. It was so simple and serene, a lush space designed by Kemelia Bin Zaal which is meant to be a sanctuary in which to feel inspired. Poetry in calligraphy runs along the wall and there's a calming simplicity in the sleek white walls and pathways. They're split up by a wonderful mix of plants like jasmine, rosemary, cardamom, fig, citrus, olive and papyrus. There's even a bismarkia silver palm, something that has never been exhibited at Chelsea before.
The gold medal went to designer Dan Pearson who recreated a bit of the Laurent-Pierrier Chatworth's garden. You'd never think it didn't exist a few weeks before; it looked like it belonged right there, this natural piece of land with streams running through and a rockery with huge stones that were actually shipped in from Chatsworth. I thought it looked especially lovely under the English drizzle that just started to fall as I was admiring it, splashing into the water in drips, clinging to petals and rolling off of thick green leaves.
You know that smell of earth that rises up from the ground after a good rain shower when you're in the great outdoors? There was that. And there were also some fantastic floral umbrellas, not to mention outfits of the people who were carrying them. The downside of showing up at 7am on press day is that you don't get to do the people watching; everyone makes an effort at Chelsea! I did see a few floral suits and a couple of standout hats though.
Wandering further in, I found some fantastic sculptures – bronze figures by Brian Alabaster, for example, and many others that I took photos of scattered throughout this post.
Another garden that I really enjoyed was the L'Occitane: A Perfumer's Garden in Grasse. It is, of course, designed around aromatic plants like bergamot, lavender, thyme, rosemary and figs. It had a wild look about it, taking on the history of the perfume industry in Grasse which has seen many of the traditional plantations become overgrown as business declined. It's perking up again thanks to companies like L'Occitane who see the importance of the area for growing the plants that are used to make perfumes.
The other show garden that stood out for me was the Morgan Stanley Healthy Cities Garden which used geometry to mimic the infrastructure of community with hedges, walls and paths. They added in a splash of vibrant plant life to act as the diverse social elements that work together and keep things exciting. It's based on a real community garden in East London.
Other creative spaces outside included stranger elements like the scaffolding poles in the Living Legacy Garden, cacti gardens sunk within black pool surrounded by tropical plants in the World Vision Garden and coloured slinkies (those toys we used to watch walk down stairs when we were kids) in the Beyond Our Borders Garden.
The rain came down a bit harder, so headed in to the Great Pavilion to keep my camera dry. Judges were wandering around in groups, someone on hand to provide them with little refreshments on trays and the designers were touching up any tiny bit of their space that was out of place. An air of anticipation was definitely present.
In one corner, there was an Alice in Wonderland theme which wasn't really my style, but very artistically pulled together with book pages, giant teapots pouring flowers and giant jammie dodger biscuits and cupcakes. My favourite part of the indoor displays was the symmetry of the tulips and the lupins and the great sweeping colours of the perfect flowers that were chosen for display.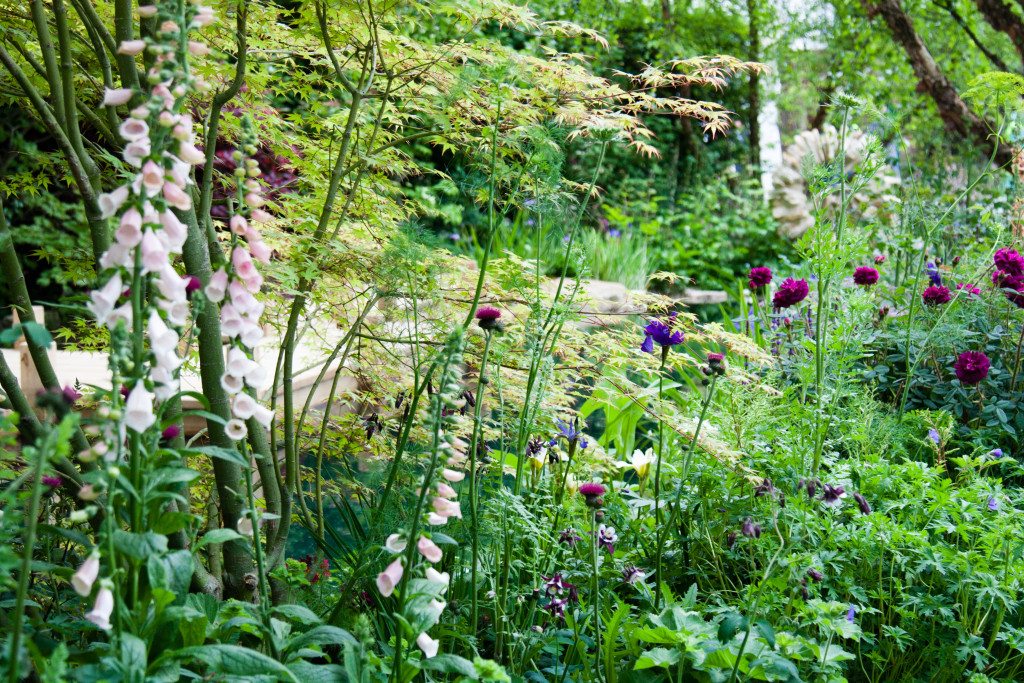 Before I knew it, my time was up. Work was calling. I would have loved to have wandered those spaces all day, to have hours to read in the Beauty of Islam Garden or stroll through the fragrant plants in L'Occitane's space. It's a shame that the Chelsea Flower Show only comes around once a year and quickly disappears. Who else thinks it should be permanent?
See pictures of the show gardens. 
See a full list of winners.