Meet Sarah Birchall, owner and designer of the wonderful kidswear brand Cub & Pudding. Read on to find out what she's doing differently that makes her brand stand out from the crowd, the cute story behind the name Cub & Pudding, and a few great pieces of advice for other small business owners.
LITTLE OBSERVATIONIST: Give us your tweet-sized elevator pitch. What's your business all about?
SARAH BIRCHALL: Cub & Pudding is unisex kidswear with quirk for ages 0-8yrs – prints are hand-drawn by me, influenced by a love of books and illustration. Our wares are created for comfort and individualism.
LO: Now tell us more: What sets you apart from your competition?
SB: We're season-less, for a start. I wanted to take the pressure off myself as a brand owner to design and stock new every time the fashion calendar dictates and also for buyers to feel forced into purchasing new every few months. I deliberately design to layer up and down – dungarees can be rolled up or down as the weather changes with chunky jumpers or nothing at all, tees paired with cardies and under sweatshirts, sleeves and cuffs rolled up or down as the sun shines or hides…

I manufacture in a (female-run!) family factory in Portugal, which is renowned for its jersey quality and the clothes are built to last in super-soft cotton and withstand every stain kids love to throw at them (as proven by my own two road-testing them!).
LO: Share a bit of background on yourself and your business.
SB: I'm based in Crystal Palace, SE London and it all began with a chance meeting with a business coach two years ago. I was really lost in my corporate PA job—which had started as a stopgap when I put a features writing career on hold after losing my love for it—and eight years later I was still there!

It all came down to what thrilled me most. And dressing my two kids in individual ways was a no-brainer; it was second-nature that the effort I put into my own wardrobe extended to them and I loved the buzz when people commented on their togs.

Beyond age three, the clothes options for my son became boring and bland; I'd narrowed down my go-to shops to a handful of European brands who were winning with printed leggings I have always dressed him in. So I figured, why not design for him myself?

I'd actually bought the URL for Cub & Pudding a year beforehand, knowing I wanted to do something with the name; it was the nicknames I gave each of my kids when they were baby bumps!
LO: Which social media platforms do you use for your business? Has this been time well invested? Any tips for newcomers?
SB: I suspect Instagram and I probably need some relationship counselling! We spend too much time together and sometimes it's a happy place and sometimes it's a stress-pit!

But I totally value its importance in growing my business and have a wonderful tribe of friends who live in my phone thanks to Insta!

I set up the Instagram account for Cub & Pudding a good six months before launching to start building a base there and create some brand awareness.

Invest time in it; it does pay off.
LO: What's the best piece of business advice you've been given that still resonates with you today? And your favourite resources for small business?
SB: Getting a coach—in whatever form you can find and afford (business, creative, life – online/offline). Top athletes are coached to the max. It doesn't matter they may be smashing sporting records; they know they need to keep learning, keep pushing. No one is too good to better themselves and we all have our own definition of success. A coach for me questions all my fears and doubts and helps give me focus to nudge me out of my comfort zone.

Only surround yourself with positive go-getters. For me, doubt can creep in then my confidence wavers, plus we all have those 'well-meaning' friends and family who like to voice their concerns when you do something bold like start a business from scratch. Try to avoid business convos with people who aren't on the same biz wavelength as you and mute the naysayers. You need to believe in yourself and your own abilities – no one can do that for you.

I massively recommend Jen Sincero's You're a Badass at Making Money book. I have never finished another non-fiction book (bar Roald Dahl and Julia Childs' biographies!) as I'm a sceptic by default with a short attention span, but I devoured this and she makes so much sense.
LO: What have been your biggest challenges and greatest rewards as a small business owner?
SB: I have zero fashion or retail background, so I started with a blank page and no contacts.

Going it alone can be lonely with no one to sanity-check ideas or offer advice. Husbands are handy (mine is a Graphic Designer which has been rather handy for my branding), but they're also biased so surrounding myself with the right business-minded people has been invaluable. These have been people I've mostly befriended through Instagram or the brilliant Mamahood gang that I'm part of.

My greatest reward so far is people's reaction to Cub & Pudding and the reality of seeing strangers' kids in my creations. It still hasn't sunk in. It's an out-of-body moment when I acknowledge a kind remark but then have to think, "Oh hang on, I did that! Big-up to me!"
LO: What are your hopes for your business going forward: what would you most love to achieve as a short-term goal? And long term?
SB: Brand recognition!
Short-term: I'd love to smash my sales targets and see the brand worn far and wide.

Long-term: I want to work with other creatives for some covetable collaborations and expand the range further. I hope to find a proper working sanctuary in my own studio and explore how I can expand Cub & Pudding's offering to blend with my print-design inspirations of books and illustration. Oh, and be stocked in two of my favourite kidswear sites: Smallable and Alex & Alexa.
LO: Little Observationist is all about appreciating life's little luxuries. Name three you've enjoyed recently.
SB: Dark chocolate. Every single day.
Booking a sneaky and rare night away with the husband. It involves military planning months in advance to book either of our families (based several hours away) to babysit, but it will be soo worth it.
Making time to read one of the many books I'm juggling before bed and instilling a social media curfew after 9.30pm. Reading is the ultimate escapism.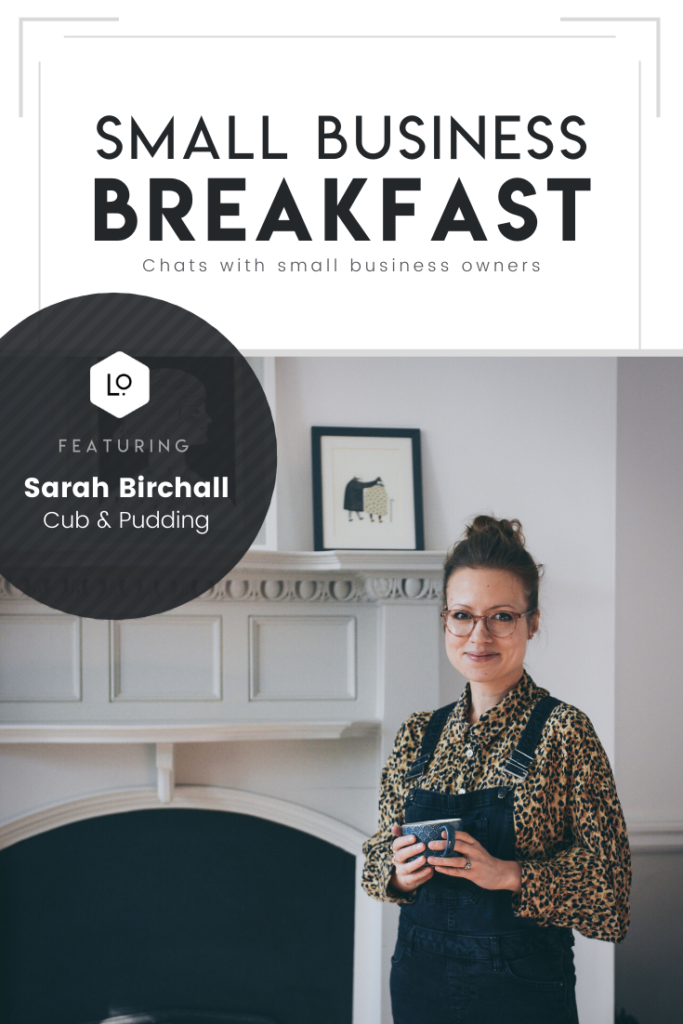 Connect with Sarah:
PS: If you're a small business owner and you'd like some professional guidance with your own social media, head on over to my small business exclusives to find out about ways we could work together to help you perfect your strategy (or create one!).