Meet Jacqueline, illustrator, printmaker, designer and owner of Glitter and Earth. Leaving behind the chaos of London a few decades ago, Jacqueline has carved out a creative home in Cornwall with her 6-year-old daughter where she lives with a closer connection to the nature that fuels her and her work.
Read on to find out more about Jacqueline's art, some of the podcasts that inspire her, and a fantastic analogy comparing running your own business to gardening.
LITTLE OBSERVATIONIST: Give us your tweet-sized elevator pitch. What's your business all about?
JACQUELINE WILD: I'm an illustrator, printmaker and designer with a love of nature, magic and positive vibes.
LO: Now tell us more: What sets you apart from your competition?
JW: That's a tricky question! There is a lot of competition in the art world and a lot of people with similar interests. However, I love the magical and mystical and try to create work that makes people feel happy or connected in some way. I am drawn to myths about mermaids, folklore about hares and the magic of nature.
I am fascinated by the phases of the moon and living more harmoniously with the flow of nature which is why I designed my own moon phase calendar.
LO: Share a bit of background about yourself and your business.
JW: I am based in St Just, Cornwall, UK, now, close to rugged cliffs and sub-tropical valleys. I moved down here from SE London roughly 20 years ago and I am full of gratitude every day for the beauty of this area and its wild energy! I have always been creative, but until the birth of daughter six years ago, I thought of myself as a writer and that I would one day write a fantasy novel.
Making a living in Cornwall can be fairly challenging, and so although I did some freelance writing for magazines, my income had to be supplemented by waitressing and a variety of other jobs. I was happy with that though, as I was pretty free and I was obsessed with surfing, which fuelled me.
When I had my daughter though, my brain was rewired from words to pictures. I bought an iPad, learned how to use Procreate and would draw as I helped my daughter get to sleep. I got a lot of practice in, took online courses and listened to lots of podcasts that inspired me to keep going.
The name for my business, Glitter and Earth, represents the sparkly magical side as well as the nature inspired aspect. I try to be as earth-friendly in my business as possible, using organic t-shirts and phasing out cello bags for my cards and prints.
LO: Which social media platforms do you use for your business? Has this been time well invested? Any tips for newcomers?
JW: I like Facebook, Instagram and Twitter the best, although I keep thinking that I need to start using Pinterest more.
I really enjoy social media and I think that is an important part of what I do. I think you need to be a user of a platform to totally get it and then you work with that. I feel like I can be a bit more sales driven on Instagram and Twitter, whereas I steer away from that on a Facebook where I share things that I think my friends and family would be interested in.
LO: What's the best piece of business advice you've been given that still resonates with you today? And your favourite resources for small business?
JW: I listen to a lot of podcasts and a lot of the advice has got mashed together in my brain! I am a big Andy J Miller fan; he does the 'Creative Pep Talk' and I remember a particular series on how your career can be seasonal. You need to have a sowing season, a growing season and then a harvesting one. I think of business a bit like gardening now, where there are lots of different aspects that need simultaneous caring for. You can't just plant seeds and forget about watering your plants and weeding.
As an creative person, it is tempting to just focus on the pretty flowers, but if you want to have a business then you need to get a little dirty and do some of the less fun jobs.
I love Cathy Heller and her Podcast 'Don't Keep your Day Job' – I find it really inspiring and motivational. There are definitely days when I reconsider what I am doing, but I am learning and growing all the time, and listening to other people's experiences really helps me to stay on track.
LO: What have been your biggest challenges and greatest rewards as a small business owner?
JW: I think the biggest challenge tends to be based around self worth. Working on my mindset around money has been a big thing; I guess we all have our issues! I loved Jen Sincero's book 'You are a Badass at Making Money'.
Each step forwards is a step stronger and I love how exciting this is! I love having control over what I do and when I do it. One of the best parts of my work is getting feedback from customers. I get emails and messages from them telling me how much they love my work and that means so much. I feel as though I have made many friends this way.
LO: What are your hopes for your business going forward: what would you most love to achieve as a short-term goal? And long term?
JW: My main hope is that things continue to grow and that I one day have a sustainable business. I have a range of products that I sell on Etsy that I would like to be able to sell wholesale to more shops. I am also taking a course by Lilla Rogers – Make Art That Sells – on editorial illustration, and I would love to see my work in magazines. I have a love of self development/spirituality and wonder about collaborations with people in this field too….
So many fun things! I am led by a sense of excitement and trust that this will take me where I need to be.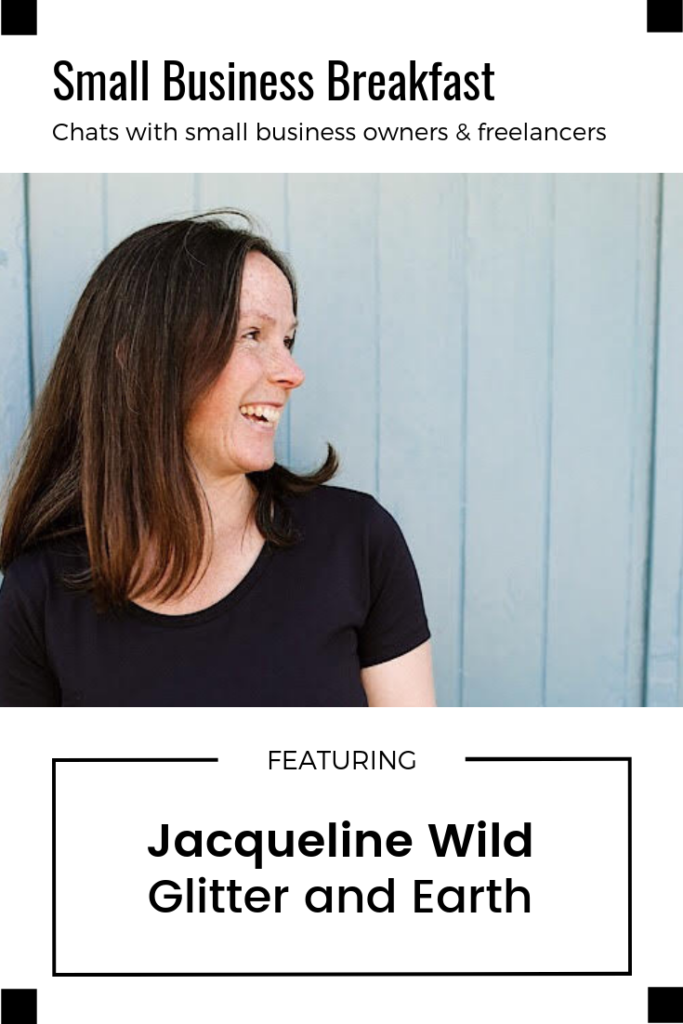 LO: Little Observationist is all about appreciating life's little luxuries. Name three you've enjoyed recently.
JW: Ooh luxuries! I enjoyed the most fabulous mermaid cake yesterday which was for my daughter's birthday and we got to eat it on the beach with friends! I think that that's a pretty good combination.
Connect with Jacqueline:
Facebook
Instagram
Twitter
Etsy
Website
PS: If you're a small business owner and you'd like some professional guidance with your own social media, head on over to my small business exclusives to find out about ways we could work together to help you perfect your strategy (or create one!).