Meet Michelle Wiseman, founder of Little Wise Toys, who put her background working for a decade in the Department of Health and the Department for Education to creative use, developing learning toys for 3-6 year olds. She's excited to be branching out to include 6-12 year olds later this year!
Below, Michelle talks about the importance of her toys being travel friendly and screen-free, reflects on some of the biggest challenges and best rewards of owning her own business, and shares some marketing tips she's learned along the way.
LITTLE OBSERVATIONIST: Give us your short elevator pitch. What's your business all about?
MICHELLE WISEMAN: Little Wise Toys offers a range of screen-free and travel friendly educational toys for 3-6 year olds that provide a fun and interactive learning bridge between home and early years/early school settings. Themes include phonics, maths, emotions, dinosaurs and more. An exciting brand new product focused on promoting confidence, happiness and resilience for 6-12 year olds is also in development.
LITTLE OBSERVATIONIST: Now tell us more: What sets you apart from your competition?
MICHELLE WISEMAN: A lot of different ideas have inspired the Little Wise Toys' concept, many of which have derived from my own experience of being a mum. Here are the main highlights…
I was really keen to design kits that help parents and carers support 3-6 year olds' learning and development in an accessible, imaginative, fun, and interactive way.
I was also keen to ease any overwhelm. This is why I designed the kits in a way where there is no need to be an expert in areas such as phonics, maths, nurturing the development of social and emotional intelligence and early years frameworks. The kits provide all the guidance that is needed.
In addition, I wanted to design the kits in a way that gives parents and carers the confidence that they are complimenting their children's learning in line with what they are exploring in early years settings/early school. With this in mind, the kits have been informed by the EYFS and KS1 of the UK curriculum.
I also wanted to go back to basics and design a fun learning option that involves no screens, flashing lights or loud noises, yet still offers plenty of opportunities for interaction, exploration and imagination.
In light of the 'screen-free app' concept, I wanted each kit to be packaged in one small and accessible travel friendly box, making the activity sets an ideal alternative to use on the move, as well as at home.
The product range is also extending in age focus to cater for 6-12 year olds. I can't wait for the first product in this extended age range (which focuses on children's emotional wellbeing) to be available later on this year. I was delighted to hear back from an expert in the field recently who said that he thinks it's a very worthwhile venture because he hasn't seen anything quite like this product targeted at this age range before.
LITTLE OBSERVATIONIST: Share a bit of background on yourself and your business.
MICHELLE WISEMAN: My name is Michelle and I live in South East London with my 9-year-old daughter.
My small business came about by accident really. The very beginnings of the concept started forming in my mind from nowhere a few years ago when I was settling my daughter back to sleep one night. I was excited by the concept and so decided to see if I could bring it to life. One thing led to another and there were many twists and turns along the way. Everything eventually evolved into Little Wise Toys, which launched at the end of 2017.
In my pre-mummy life, I spent 10 years working in the Department of Health and the Department for Education on a variety of children and young people focused policy areas. I was involved with and project managed some very interesting and high profile projects and programmes during my time there; and gained invaluable insight and experience in policy development from pre-school through to the teenage years.
I love researching, writing and creating ideas from a blank canvas. I also feel passionate about how much we can influence and encourage a love of learning, as well as lay key foundations from a young age so that we can help to open the doors to opportunities in life. With this in mind, creating Little Wise Toys seemed like a natural next step for me.
LITTLE OBSERVATIONIST: Which social media platforms do you use for your business? Has this been time well invested? Any tips for newcomers?
MICHELLE WISEMAN: Instagram and Facebook are the main platforms I use. I do have a Twitter account but I really don't give it anywhere near enough attention. I also have a LinkedIn account, but I admittedly don't really use this. I think that it's better to invest time in a smaller amount of platforms and use them more effectively, rather than try and invest in them all, spread yourself too thin, and not do any of them well.
In terms of additional tips… I'd say the key is finding our where your audience is most represented and then focus on those platforms. I think it's really important to set aside time to engage with your followers too. Not always easy as life is such a juggle… But it's worth it and social media has the word 'social' in it for a reason. I think that social media can also be a great place for networking and meeting new people. I've met some other great small business owners. The support and encouragement you can give each other can be really valuable. I think I've found it easier to build up a network/community on Instagram, rather than Facebook, although both platforms definitely have their benefits. While it should ideally sit alongside other approaches, social media can also be a great way of raising awareness of your brand. I think it's nice to give something back to your followers too. For example, this is why I like to take the time each week to put together a fun learning topic that parents can share with their little ones.
LITTLE OBSERVATIONIST: What's the best piece of business advice you've been given that still resonates with you today?
MICHELLE WISEMAN: I think that some of the helpful things I have picked up along the way include – taking the time to be clear about who your audience is; finding where they are; and establishing how to most effectively reach and communicate with your audience.
LITTLE OBSERVATIONIST: What have been your biggest challenges and greatest rewards as a small business owner?
MICHELLE WISEMAN: Ahhh, where to start? There have been so many challenges and so many rewards.
Some of the challenges… Getting the production line right as a product focused business. For example, finding the right manufacturer and making sure that they manufacture the products to a standard that I am happy with. Finding sufficient time to focus on the business in and around all other responsibilities (this includes sufficient time to take a step back and really spend some time working on fundamentals such as developing a good marketing strategy). Needing to wear so many different hats (although this can be a positive in a way because I love learning new things). A further challenge is keeping on top of the more mundane side of things, such as all of the business admin.
The greatest rewards… When I take a moment to pause and think about what I've achieved, I feel quite proud that I came up with the concept of Little Wise Toys and created all of the product range from a blank canvas. It's also an incredible feeling knowing that something you've created is helping lots of little wise ones out there with their learning (this will never fail to put a big smile on my face). Being able to do something that I love is also a real bonus. As well as having a strong interest in early education, I also love the fact that the business enables me to implement some skills and activities that I really enjoy such as researching, writing and the opportunity to get creative. A huge reward is also the flexibility that the role offers enabling me to juggle my role as a mum and a business owner.
LITTLE OBSERVATIONIST: What are your hopes for your business going forward: what would you most love to achieve as a short-term goal? And long term?
MICHELLE WISEMAN: I hope that the Little Wise Toys products continue to support little ones with their learning. I would also love to be able to build on the current product range over time. I had to invest a lot when I moved the manufacturing of my products to the UK. So, I am very conscious that expanding on the product range is not something that I am able to rush. However, I am delighted that my new product for 6-12 year olds focusing on nurturing children's emotional wellbeing will be available later on this year. I have wanted to create this for a long time now. One day, I woke up and thought there's no time like the present, so let's get started. I cannot wait for this activity set to be available because I think it offers valuable support for children in such an important topic area.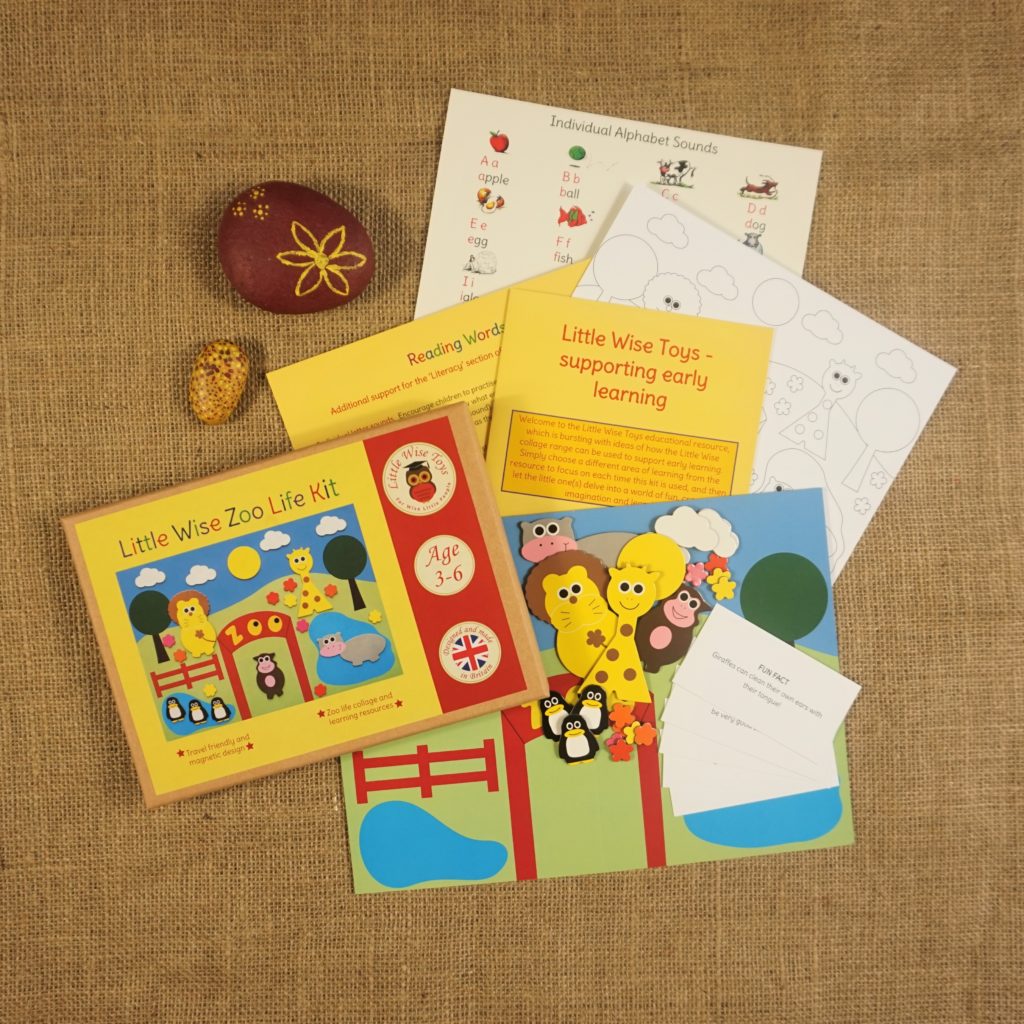 LITTLE OBSERVATIONIST: Little Observationist is all about appreciating life's little luxuries. Name three you've enjoyed recently.
MICHELLE WISEMAN:
Spending time with people that make me smile (even if it is from a distance);
Some dairy milk chocolate, strawberry ripple ice-cream and a nice glass of cold white wine;
Walking in lots of lovely greenery and setting aside some extra time for other exercise too; and
Reading some brilliant books.
Eeek, sorry, that's four things…
Connect with Michelle:
PS: If you're a small business owner and you'd like some professional guidance with your own social media, head on over to my small business exclusives to find out about ways we could work together to help you perfect your strategy (or create one!).