On every foodie's bucket list there surely is a trip to London's Borough Market. If not, there should be. And for every history buff as well, because this year, the market celebrates what it thinks is its 1,000 year anniversary. The records aren't 100% clear, but any excuse for a party, right? At any rate, we can rest assured the food will be to notch.
It's a place I make an effort to visit every three months or so, a place I've written about before. The last visit was in August around the time I went to explore the lovely little nearby Maltby Street Market. I realised that I haven't shared the photos yet that I took that day and I didn't want them to be lost.
What I notice most while walking through the market is all the different smells: bubbling, melting cheese turning to a golden brown for those famous Borough Market grilled cheese sandwiches; the bakery-fresh smell of bread not long out of the oven; the organic, earthy scent of wild mushrooms; and the fishy scent of the seafood stalls where crabs and oysters are laid out on display next to rows of cod, haddock, sea bass and monkfish cheeks.
It's a colourful place as well. There are heaps of fresh carrots, baskets of bright red tomatoes and piles of corn on the cob with green, hairy husks. There are tiramisu cupcakes, fresh lime and mint cupcakes, spiced plum cupcakes. There are stands with bouquets of sunflowers and roses and wildflowers. There are mounds of flat peaches and nectarines, huge rounds of cheese that usually come with samples laid out on little trays and big baskets of green and black olives in all different varieties.
The market attracts Londoners but also a ton of tourists (especially on a Saturday) people from all over the world. This can be frustrating if you're in a hurry to find something specific because it will inevitably be crowded, but if you're just there to browse, and take it easy and roll with the crowd then it is an excellent place for people watching.
Go hungry, of course, because you'll regret not having room for lunch if you don't. One I'd like to try that I haven't yet is Gourmet Goat. Nick and Nadia serve up Cypriot goat with the flavours of wild oregano and bay, lemon and olive oil.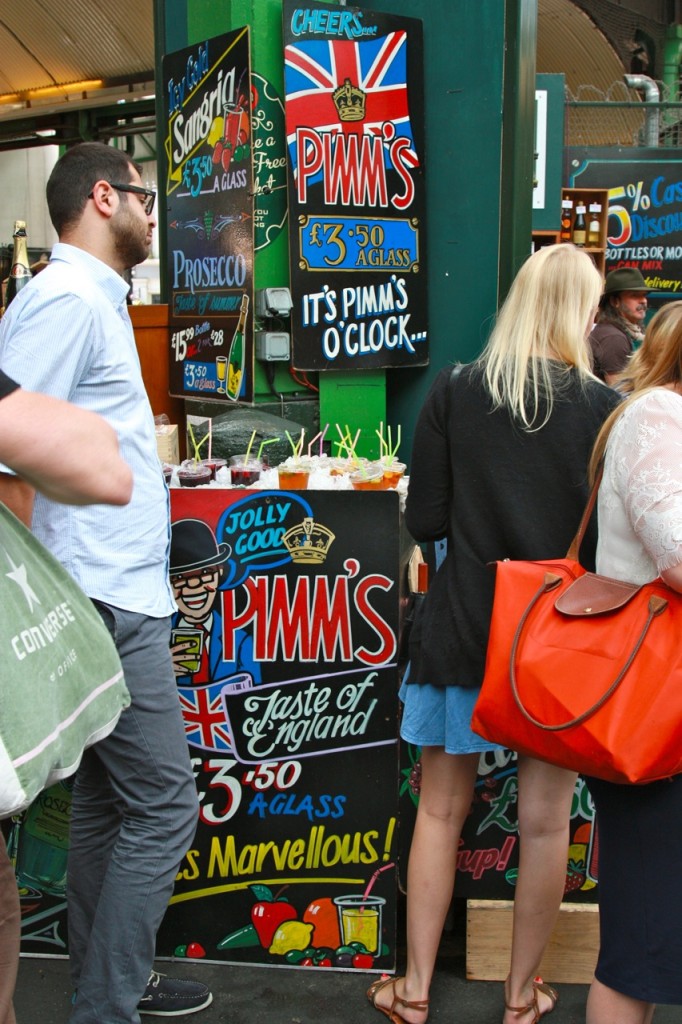 Many of the vendors are local, but many also have international backgrounds like Nadia. If you're looking for authentic Thai food, you'll find that at Khanhmon Krok where Worawan and Michael serve up food that send us on a culinary journey to Bangkok. The name means coconut puddings, one of the foods that they cook there. The coconut and mango rice is also an excellent choice.
There's Carribbean soul food like jerk chicken, friend plantains and pineapple coleslaw served up by Patrick Williams. If you have a craving for samosas or bhajis, head over to Gujarati Rasoi for some Indian treats. And of course, you really haven't been to Borough Market unless you've tried the famous Montgomery cheddar, onions, leeks and garlic on Poilâne sourdough made on the Swiss raclette at Kappacasien.
After lunch, there's always room for something sweet. On my last visit, I stopped by to pick up a few hunks of delicious fudge from Whirld, run by Justine Cather. If you're into meringues or macarons, chef-patissier Sebastien Wind has you covered at Comptoir Gourmand. The custardy canelé de Bordeaux is also an excellent choice.
The traders are all very friendly and proud of their foods. Quality is valued. If you have questions about any of the projects, you'll find someone behind the stalls who is knowledgeable about what they're selling and in some cases – if you're taking home fish, meat or raw produce – may even give you advice on how to cook what you're buying in a new way.
If you're planning a dinner party, a fun place to stop is Brindisa who import Spanish foods. They are cheap but they are tasty. Stock up on Ibérico Bellota ham, Manchego cheese and chorizo. If you want to get fancy, head over to Tartufaia Truffles for white truffle oil or truffle honey. If it's jams or sauces you're after, Marco Vineis has a nice selection of Italian goodies at Gastronomica.
For fruit and veg, if you manage to catch Michael Dalloway during his short 5-week season, pick up some cherries from Dalloways Cherries. They're locally grown in his East Sussex orchards. Pick up some of your 5-a-day from Elley & Bent where you may bump into Gary Voight who has been running a stall at the market for some 35 years. Or learn a thing or two about microgreens from Tom Harvey at Sow Gourmet.
Feeling adventurous? Bring home something from the Exotic Meat Company to cook for dinner. They  have a wide variety of the unusual: kangaroo, water buffalo, springbok, kudu, bison, zebra, impala and crocodile. You can also buy biltong and huge ostrich eggs.
All in all, whatever you're looking for when it comes to food, you'll likely find it here. A 1,000 year anniversity is especially impressive with the rate that everything independent or different seems to close down these days. Here's to 1,000 more. Happy anniversary, Borough Market!