These are slow days, long days, days to stay at home. They are days that we won't forget for years to come. Streets are quiet. Shops are closed. Skies above us in the Heathrow flight path are blue and clear of planes and noise. The weather is getting warmer. The neighbour's too-loud TV pulses through our walls much of the day with muffled laughter. The trees are blossoming, though they are unseen by many.
Emilia turned 3-years-old and we slipped a birthday party in days before it would have been too late. We spend our time flitting between her colourful, imaginative world of play and the adult one where Jorge and I both need to squeeze in hours of work juggled between us. Work is uncertain day by day, as clients are temporarily disappearing to deal with their own financial woes.
Mornings involve glue and glitter, arranging soft toys for tea parties, building houses from Lego, negotiating endless snacks, painting, listening through plastic stethoscopes to the hearts of teddy bears, reading countless books, baking, cosmic yoga, and "Hop Hop Little Bunny" on repeat. Emilia wrote her name for the first time this week. And we're learning in a playful way: letters, numbers, life skills.
Lunch is in need of inspiration. With any luck, a nap will follow.
We're lucky to have a garden, where pavement tiles fill with chalk, a sandbox becomes a place to "cook" and serve up scoops of "ice cream", where a scooter can be ridden in circles, a ball kicked back and forth, picnics set up on sunny afternoons, and a herb garden has been planted. There are slugs and snails to study, weeds to pluck, space to take dollies for walks in toy prams, and importantly, fresh air.
At 34 weeks pregnant, I'm preparing myself – mentally and otherwise – to have a birth entirely different from the one I had envisioned. And after May 7, our world will be unrecognisable in another way. But we're not there yet.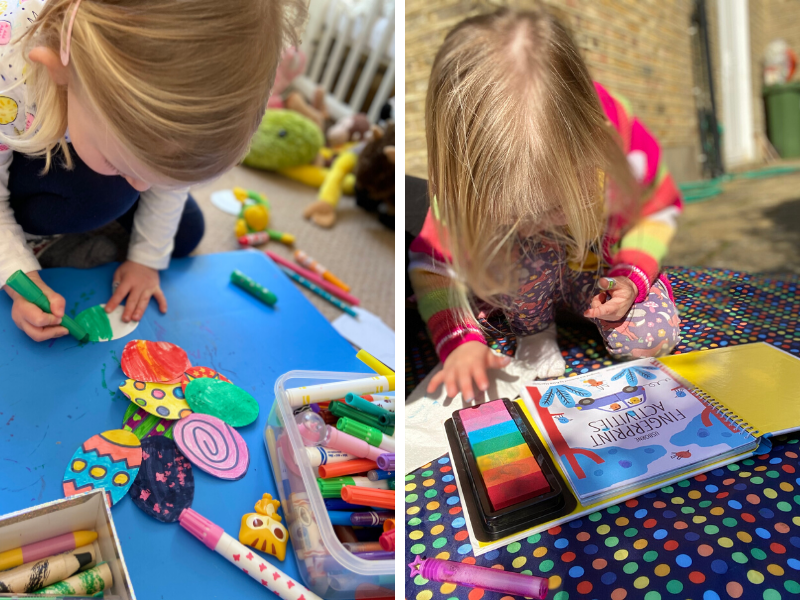 As grim as most of the reality can be, we are part of an historical moment that will be studied by future generations. Amid the deaths across the globe, the anxiety and fear, the lack of toilet roll on supermarket shelves, and the isolation, there is still space to find beauty in the little things.
We're taking one day at a time. We're noticing the fall in pollution, the opportunity to slow life down to a crawl and refocus, the stories of kindness, the selflessness of the medical community and many others, and the creativity and incredible new ideas spreading across social media.
I'd love to hear what your world looks like right now: What are you worried about? What are you seeing around you that's positive? How are you spending your days? Are you still working? Do you have kids to entertain, how old are they, and what are some of the best resources and ideas for doing so?