In the middle of a relentless downpour, I relaxed under an awning outside of a cafe biting into a goat's cheese and carrot marmalade sandwich, sipping at a glass mug of tea with hot milk. Not a scene you'd expect in the land of sunshine and souvlaki. But then again, Athens was an adventure all about breaking stereotypes from the beginning.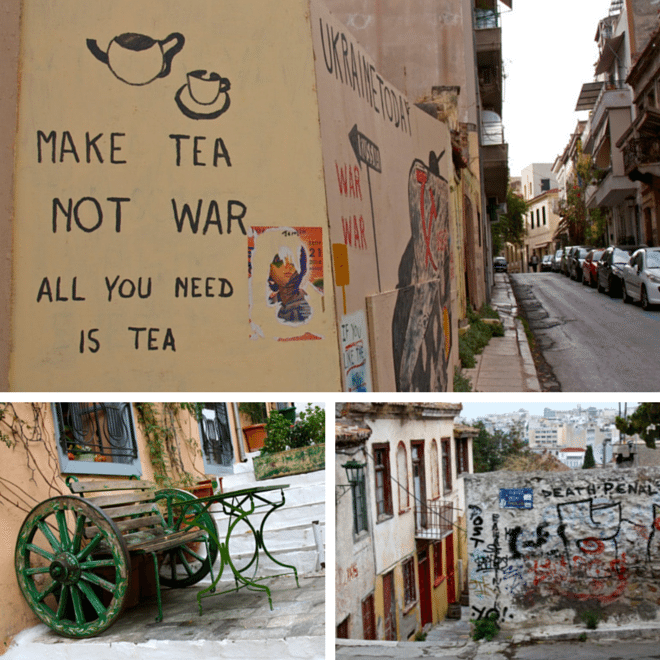 Kicking off the TBEX event (the reason I was there) was the Mayor of Athens, Yorgos Kaminis who acknowledged the recent economic crisis and the riots that brought the city a bit of a negative reputation. Standing on the stage, he told us:
"It feels wonderful having more than 800 people going around the city, telling to the rest of the world how is Athens. We invited bloggers to see the city, see that it's a vibrant city, a lovely city where they can have a good time."
I had limited time, but having visited the famous ruins on previous visits, I swept right by the Acropolis and trawled the back alleyways, the street markets and the residential areas. More than seeing the route set out for tourists, I just wanted to soak up the atmosphere and take in this beautifully lively, gritty and fascinating city by simply getting lost in it.
Beyond the stray cats and the olive trees and incense of the First Cemetery that I've shared already, there were white washed walls with draping pink Bougainvillea, entire streets full of buildings and walls with every inch covered in art and bright yellow taxis everywhere.
Across the square from the small boutique hotel where I stayed for five days, a church bell rang every half hour through the night (thank you, earplugs). A young boy (who should have been in school) sat on the sidewalk and charmed the tourists with his accordion, tapping his brand new shiny trainers to the rhythm of his own music. In the streets, a Greek shop owner called out to an Asian family walking by, greeting them in their common language of Spanish – the sign of a true global city.
Wandering one day, I bumped into a small religious parade where locals followed a marching band through the streets. A woman with curly white hair told me they were celebrating the 1,000th anniversary of a nearby church. All morning, the bells rang through the air with the sounds of singing and music.
I woke each day at dawn and made my way to the terrace to eat a buffet breakfast of honey on toast, hardboiled eggs and orange juice, freshly squeezed. It was so early, I was the only one outside. The breeze swept in over my plate and around my shoulders with a chill, but with the direct view of the Acropolis, highlighted with floodlights against the sky before the sun fully rose, I hardly noticed.
Walking the city streets, there was always a faint sound of dogs barking or cats yowling somewhere in the distance. A roar of motorcycles drowned them out at regular intervals. Protesters chanted non-violently near Syntagma Square. In the silent moments, you could hear the clanking of cutlery – outdoor seating is a big part of the culture here. It was nice to see that many of the restaurants and corner shops were still family run.
Evenings, music – often live – seeped invitingly out of bars with open front doors. Vendors pushed carts with desk lights rigged up to the side, selling roasted corn-on-the-cob and chestnuts that reminded me of Christmas on London's South Bank. Cigarette smoke swirled in street lights, mixed with the mist of a light rain.
One of my favourite tastes of Athens was halloumi cheese smothered in honey and vinegar, squeaking between my teeth. There were salads of tomato and feta with olive oil. We ate meatballs and kebabs, pita bread and eggplant dishes. There were frappes galore and coffee cooked traditionally over hot sand.
I loved the messiness of the flea market, rickety tables set up along the streets, piled high with junk and hidden treasures. There were car parts, old records and fix-me-up watches. There was taxidermy. There were tourist t-shirts, icon paintings and penis key chains carved from olive wood.
In Monastiraki Square, what a pleasure to bump into a vendor again after buying a drink from him with my dad on our visit to the city four years ago. He sells salepi, a hot, thick drink made by boiling the powdered root of orchids. Imagine the sweet, nutty smell with a coating of cinnamon on top.
Unfortunately his English is very limited and my Greek stretches as far as yassas (hello), kalimera (good morning), kalispera (good afternoon), kalinhta (good evening) and efharistó (thank you). I can occasionally remember that nai actually means "yes" when I'm lucky. Sadly these don't get me too far in conversation so I couldn't speak much with him, but he was lovely nonetheless.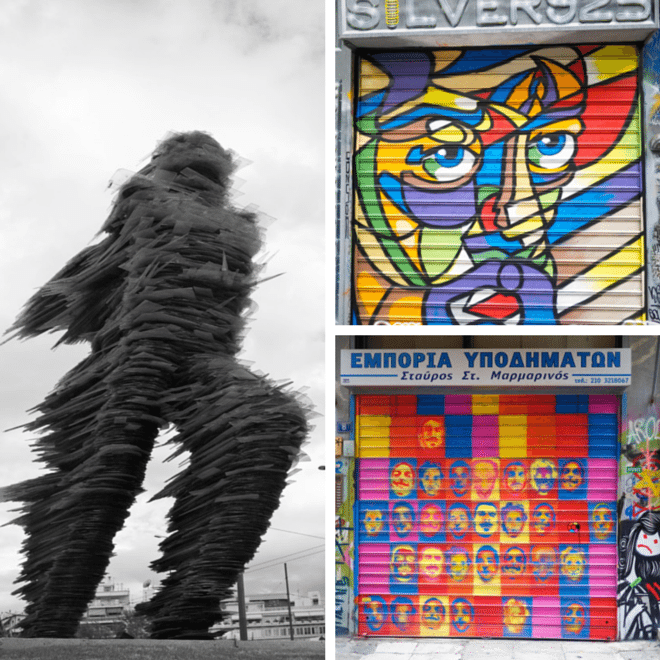 The drink was more gelatinous than I remembered, one of the most unusual things I've tried (not quite up there with the big-ass ants though…). Come to think of it, he's the only one I saw selling salepi.
Many of the street vendors parked yellow carts piled high with koulouri, the pretzel-like snack traditionally covered in sesame seeds. Others filled carts with coconut pieces watered under mini fountains to keep them fresh. And then there were the lottery ticket vendors selling from stands in the market or simply walking through the streets approaching random people, trying to make a quick euro.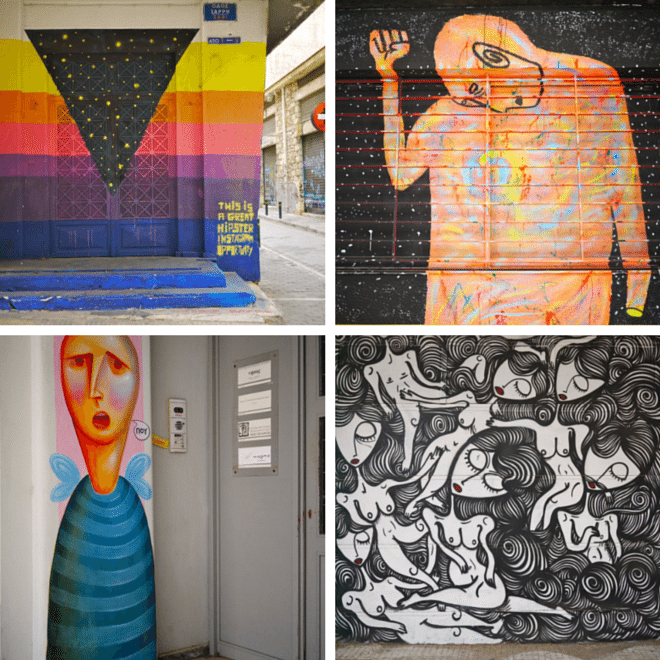 It's a steep city with sloping streets and sets of steps that seem to stretch up for miles. It's fun to climb these (though preferably I'd take them down instead), just to see what's hiding at the top. When these are in residential areas, you'll often see homes with front doors opening halfway up, cats lazing on the stoop. Whoever lives there must be very fit.
Athens is a photogenic city, a place that lets you uncover snippets of its character as you walk along, revealing its little secrets around each corner. It's a bit dilapidated, with crumbling walls and an obvious gap between the rich who shop in Prada and Dior lined streets that are grand and pristine and the down-and-out who lie on rumpled cardboard boxes or dirty mattresses under scrawls of graffiti.
Around some corners, you'll find smart restaurants with diners leaving their designer coats at the door. Around others, you'll stumble into a thick cloud of last night's drunken urine from party revelers, a stash of discarded beer cans lined up on a window sill.
But this is most cities. And it's what I love about them: the stark contrasts, the sense of possibility and opportunity, the value of encouraging creativity and the room to grow or the risk of falling out of view, slipping through the cracks. Athens has grime and gleam and everything in between. Most of all, it is absolutely "a vibrant city, a lovely city", as the mayor said. It's a beautiful city full of life.