Meet Fran, a talented artist whose strikingly colourful bird drawings I spotted in a window display at Northcote Gallery on King's Road not long ago. The pieces on display were made more interesting by the moleskin pages she uses as a canvas and her random notes unrelated to the feathered creatures. The gallery was closed and it was the last day of Fran's solo show, so I took a photo of her signature to Google when I got home. Happily, she agreed to tell me all about her work, her creative process and her recent artist residency in Bermuda below.
LO: Tell us a bit about yourself.
FG: I live and work in Peckham Rye, London. When I am not drawing birds in my studio, I am studying them at the Natural History Museum or the Horniman Museum. I love cooking and you can often find recipes included within my pieces. I also love walking. It's difficult to find the space in London, so I'll either travel to the Peak District, or make the most of Richmond Park.
LO: How has your art developed and changed over the years? Why did you choose to focus on birds specifically?
FG: My drawings have certainly gotten more colourful over the years. Initially all my work was drawn using graphite pencil, but I discovered a love of colour several years ago and now consistently work with vibrant colours. I happened upon birds almost by chance. I was preparing for my university degree show and began watching "The Jungle Book" for a break. On a whim I decided to draw the species of vulture from the film and went on to draw one of every species of vulture for my final exhibition.
LO: You recently had a solo exhibition at the Northcote Gallery on the King's Road, London. Tell us about 'All My Beautiful Boys', the pieces that were on display and the hard work that went into making this happen.
FG: 'All My Beautiful Boys' was a solo exhibition of over 150 drawings of birds over my Moleskine. It was a huge amount of work and it was wonderful to see all of the drawings together. Due to the evolution of birds, the male is always the more attractive, hence the title of my show. I chose to focus on male birds so every drawing would depict a stunning and colourful bird.
LO: Last year, you were artist-in-residence at the Masterworks Museum of Bermuda Art. What was a typical day in your life like while you were there?
FG: Bermuda was fantastic and I don't think there was a typical day! I explored abandoned forts, swam in the sea, snorkelled with colourful fish, and walked from one end of the island to the other. I also went boating, bird-watching, and drew each day.
LO: When you think of Bermuda, what first comes to mind when you hear the following:
FG:
Sight: Sea turtles in the clear blue water.
Sound: Tree frogs calling at night.
Smell: Babecue on the beach.
Taste: See above!
Texture: The warmth of the sun.
LO: Talk us through your creative process, from initial idea to final drawing.
FG: I unbind a page from my Moleskine diary and begin researching birds that could complement the composition of my handwritten notes. I try not to cover the text as I've learned that people like to read what I've been up to. I sketch my birds using aquarelle, graphite pencil, ink, and gouache.
LO: In what sort of atmosphere do you create your best work? Do you listen to music?
FG: I work better alone, when listening to audiobooks or Radio 4. I get too impatient with music but can focus when listening to a radio play.
LO: What has been the most exciting moment for you in your career so far?
FG: There are many obviously exciting moments like attending the private views of my numerous solo exhibitions, or getting short-listed for the Threadneedle Prize. However, one of the most exciting moments was being commissioned to draw the penguins at London Zoo. The day ended with a lecture on penguins at the Mall Galleries. The whole experience was a huge amount of fun.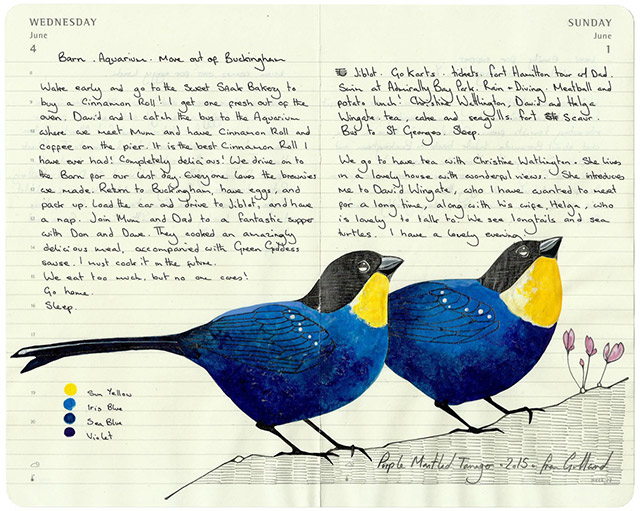 LO: Tell us your favourite story of one of the pieces you've created.
FG: One of my small Moleskine diary pages depicting a Ribbon Tailed Astrapia was gifted to David Attenborough after I attended one of his lectures. He seemed very pleased with his gift!
LO: Little Observationist is all about appreciating life's little luxuries. What are three small moments that you've most enjoyed recently?
FG:
– Successfully roasting a shoulder of lamb.
– Walking through Richmond park and seeing dozens of deer.
– Looking up from a recent drawing of goldfinches to see several real goldfinches perching in my garden outside.
Thanks Fran!
Connect with Fran on social media through the links below or pop by The Other Art Fair in London from April 24-26.
Twitter: @FranGiffard
Facebook: Fran Giffard
Instagram: Fran_Giffard_Drawing
Tumblr: Fran Giffard Drawing
Website: www.frangiffard.com